EVERY Work From Home Job To Get Paid DAILY ($875/day)
Blog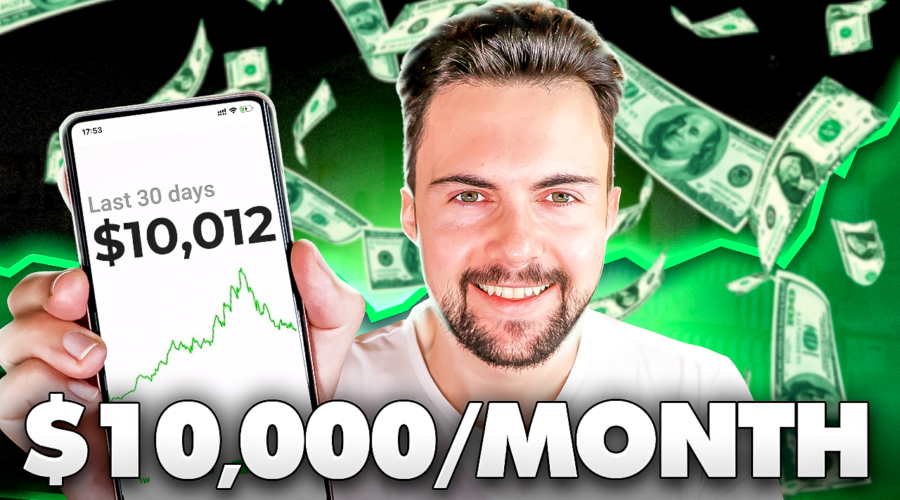 In this video, I've got eight easy work-from-home side hustles that could help you add another cool $4000 a month or more to your bank account and, in some cases – even quit your day job entirely. And the first thing on our list is something you could realistically get started with and get some cash into your bank account today. If that sounds good to you, make sure you watch the video to the end because I have a little gift for you that could make you a lot of money. Let's dive right in.
Job #8 – Renting out your car
Now I'm gonna say something that you're gonna like. Are you ready for it? Passive income. This phrase gets thrown around a lot today, but when you actually find something that gives you passive income – it's a winner. But passive income opportunities don't just turn up on your doorstep every day. However – you might have one sitting in your garage right now. Renting your car out for the days when you're not using it is a fully legit way to make some extra income on the side for doing basically nothing.
One great website for getting set up with this is called Turo. This works by being a cheaper alternative to rental car companies which can end up charging people way more money than they should. Turo is like the Airbnb of cars. Now, unfortunately, it has some requirements. For example, you can't rent out a car that's older than 25 years. So your banged-up 1997 Renault Clio isn't gonna cut it. I'd be surprised the thing hasn't fallen apart yet, to be honest. But your 2003 Ford Fiesta will! To get started renting your car on Turo, you first need … a car. Once you've got one, you can go to Turo.com and create an account. Once you do, get approved to use Turo by going to your Account page, tap "Get Approved to Drive," and fill in the information. Now you need to be a certain age to list your car. For the US, Australia, and Canada, you need to be at least 21. For the UK, you need to be at least 18.
And this is kinda obvious, but you also need a driver's license and valid car insurance. But when all that stuff is out of the way, you can end up making a solid bank. This may not come as a surprise to you, but the amount of money you make depends on how much the car is worth. An old Honda Accord won't earn you as much as a new Tesla. But even by doing this on the side with an old car, you'll earn good money. For example, this user on Reddit mentions that just by renting cars on Turo as a hobby, they've made $928 in like 6 months and had a great time doing it. And that's just a hobby. If you wanted to take it a little more seriously, you could make a lot more. You could even scale it up like this user has done by putting multiple cars on Turo and making up to $500 per month per car. I mean, that's if you casually have a bunch of cars lying around, which most people don't, but still – this shows you where it can lead. And overall, I think this is a great side hustle you can use to make some solid money. 3/10 from me.
Job #7 – Type for money
Now there's a reason I'm mentioning this one first, and it's because it's not the best on this list. You might be thinking, "Dylan – why mention it at all then?" I'm mentioning it because transcribing has got such a low barrier to entry. Tons of people want to make an extra income on the side online, but most people have no idea where to start. Well – literally anyone with a decent grasp of the English language can get started with transcribing and earn money doing it. But what is transcribing? Basically, as a transcriber, you'll be sent audio and video files to listen to and type into a written document.
Apparently, AI hasn't gotten sophisticated enough to do this flawlessly, so companies are still paying humans for accurate, high-quality transcription. A great website to get started for this is TranscribeMe. All you need to do is go to transcribeme.com/freelancers. From there, you can click "start freelancing," which will then take you to an easy signup form. After that, you need to connect your PayPal and take an entrance exam. After passing that exam – pretty soon, you'll be fully set up and able to start accepting jobs. There are plenty of jobs, so there's no shortage of work. According to TranscribeMe.com, freelancers earn, on average, $15 – $22 per hour on the platform, with the average monthly pay being $250. Another cool feature of this site, in particular, is the idea of "special teams," which are specialized jobs paying much higher.
It can take you a little while to build up to that, but when you're there, you can earn quite a bit of money doing this, especially if you improve your typing speed and get better at it. But the whole idea behind this is to monetize your free time, which is an idea I really like. Most of us end up scrolling Instagram or TikTok for no reason. You might as well do something engaging and get paid for it. Now the downside with transcribing is that it can take a little while to get going. Don't expect to be making big bucks right out of the gate. But it can be good as a starter job. For example, this guy made a quick $50 from using TranscribeMe a few times a month. That's surprisingly good potential. But as I said, there are MUCH better options on this list, so I'm gonna rate Transcribing a solid 4/10 on the cash rating scale. 
Job #6 – Correcting people's grammar & they pay you for it?
This next job is not a get-rich-quick scheme but is a great way to earn an income online. But let me ask you a few questions before I continue. Do you cringe when you see people confuse the words they're, their, and there? Can you spot spelling mistakes from a mile away? Do you edit your emails obsessively? If so, proofreading might be your calling because proofreaders are professional grammar Nazis. They do quality checks on written content to make sure that it's free of spelling, grammar, or punctuation errors. You might confuse this with editing, but it's not the same. An editor comes a step before a proofreader in the content creation process. They sometimes make big changes, whereas a proofreader focuses on the finer details.
They're usually the last person to look at a piece of content before it's published. Now this is a great online job that's flexible, pays well, and has pretty much no start-up costs. If you want to supplement your income alongside other work commitments – then it's awesome for that too. And you can find online proofreading jobs on websites like Upwork and Fiverr that have you editing blog posts, essays, ad copy, resumes, books, cover letters, sales pages, emails, and loads more. It's flexible because proofreaders often work freelance or part-time to add some solid cash to their bank account for not a lot of time investment per week. Now one of the cool things about becoming a proofreader is that you can get started as a beginner without any specialized training. No degree is needed. As long as you have basic proofreading skills like great spelling, grammar, and punctuation, you can start making money proofreading.
And here's a tip. If you aren't that good at any of those yet, you can always become a pro at using Grammarly. But how much can you realistically make? I've looked at a bunch of job sites to find the average real honest figure, and it's somewhere in the ballpark of $20 – $40 per hour on average, with the annual full-time income being somewhere between $40,000 – 60,000. But that being said, there are cases where people are earning more than that. This Redditor charges over $50 per hour for proofreading, for example. And if you want to keep it strictly as a side hustle, you can easily make a cool extra $1000 on the side like this person does. So, needless to say – the earning potential is there, and it's really flexible. And for that reason, I'm giving this a 5/10 cash rating.
Job #5 – The simple business of teaching English
Yes … you can teach English online, and no … you don't need a college degree or even experience to start. It's that simple. You might be thinking, "Dylan, don't you need to move to Korea or Japan to be an English teacher?" And no, you don't. Teaching English online is actually a growing business opportunity that you can do from your sofa at home. In fact, the e-learning market is predicted to be worth $325 billion by 2025, and learning English online makes up a big portion of that. There are over a billion people learning English at the moment. That's an eighth of the world's population. And you only need what – like 30 students to make a solid income? You can totally do it.
Now the average English teacher online earns between $10 – $26 per hour, with some more experienced teachers earning $25-$40 an hour. But I've seen tons of examples online where people are earning more than that, like this Redditor who takes home between $36 and $43 after fees. Now there will be some requirements such as being a native English speaker with a good home call setup with a fast internet connection. Other companies might ask for a TEFL or other teaching certification, but in general – you can earn money without these. Another benefit is that if you teach English through a company, you don't have to come up with lesson plans yourself. So far, so good, right? But how do you get started as an English teacher? Well, there are a few options. Firstly if you're a native speaker, a good start would be to find a company and check their requirements.
What companies are worth checking out? Well, you've got VIPkid which pays teachers $14 – $22 an hour for teaching at home. You also have Qkids and Englishhunt to check out. Another option for getting started is by teaching English through a chat or conversation app. These aren't as strict in their application process and don't usually have many requirements. One app is called PalFish, which allows you to set your own rates. The average rate is $10-$18/hour. Although that being said, the website says that some teachers charge up to $30/hour. Another site is called Cambly, which is similar to PalFish, although it's more about casual conversations to help people improve their English. And it doesn't seem to pay as well, but it's still something to think about.
Now I have to show you this example of a guy earning $2000 – $2500 online just through VIPkid and another app called Italki. All from teaching 30 hours a week. And if none of the options I just listed float your boat, you could always start making YouTube videos teaching English on the side and offer your private tutoring services. You're likely to earn much more money that way when things take off. And who knows where it might lead? Gabby from Go Natural English started making videos as a way to answer some of her students' questions while she was teaching English in Japan. After a while, other people started noticing. And fast forward to today – she has almost 2 and a half million subscribers. This gets a solid 6/10 cash rating from me.
Job #4 – Flipping used books & making serious money
Once upon a time, in the early days of the internet, there was a man with a vision. This man believed that one day, people would be able to buy any book they wanted without leaving the comfort of their homes. To make this vision a reality, he created a company helping people do exactly that. This man's name was Jeff Besos, and that company was Amazon. You might have heard of it. It was pretty successful. You see, back then, Jeff knew it was a great business idea. There are tens of millions of dirt cheap books that sell at vintage stores, garage sales, and thrift markets for literally pennies. You can buy them in bulk, sell them for a profit and ship them easily – making tons of profit on each sale.
There are people making an obscene amount of money from selling used books online. This guy, only 13 months into his business, is making $4000 a month. Even with e-books and Amazon dominating the market – somehow, this business model is alive and well. So how do you get started? Well, first thing – don't make the mistake of buying a truckload of books hoping they're valuable. That's a great way to waste money and take up valuable storage space. What you need to do is download the Amazon Seller App and sign up for an account. When you're approved, you can then go to flea markets, thrift shops, garage sales, and even Facebook Marketplace to find books.
When you find a book with a barcode, take the app out and scan it to check how much it's selling for. Every now and then, you'll find a book with an insane profit margin. A book might be selling for 30 cents, but on Amazon, it's selling for 15 dollars or even more for some old books. There are tons of these kinds of books out there waiting for you to flip and sell. There's so much profit to be made from this business model, and there are people out there earning crazy amounts of money. I also like it because it's not competitive. I mean, there are a lot of people out there doing it, but there are so many books out there that, honestly, we could all be doing it, and we'd still make a decent income. I'm giving this a 7.5 out of 10. Now while we're on the topic of books – here's another one you'll like.
Job #3 – Baking & selling dog treats
Often it's the business ideas that are out-of-the-box (or kennel) that end up working well. Why? Because nobody else is doing it. Now you might think I've gone slightly insane with this one, but just hear me out because it's a 100% legit way to make more money than you might think. If you love dogs, have an entrepreneurial mindset, and don't mind baking, then you can absolutely make money baking dog treats and selling them online. Now people absolutely love dogs, and some are even willing to pay top dollar for the gourmet stuff. I'm gonna tell you about someone who makes a lot of money doing this in just a second, but first, let's talk about how you'd even get started.
Well, firstly, you'd need to take a look online at the kinds of dog treats that are selling the most. If we look on Amazon at the best sellers for the moment, we can see that aside from dried animal food, we also have peanut butter biscuits showing up quite often. I bet they aren't so difficult to make. I found a recipe from Google in like three seconds. So all you'd do is get good at baking them. Bonus points if you've got dogs of your own because they're the ideal taste testers. Once you've got their nod of approval, bake as many of these bad boys … or actually good boys – as possible, package them up, and start selling online. Now you've got some upfront startup costs for packaging, but the majority of the stuff you need to get going you've probably already got sitting in your kitchen. Now if this is all sounding like too much effort for not enough return – listen to this.
You can make up to $1000 per week. And that earning potential increases if you're willing to go to a few farmers' markets here and there. It's a totally scalable business model. This lady from Pastries4pets mentions how she was earning $1000 per week on the regular from just selling dog treats. I bet that got your tail wagging, didn't it? Okay, that sounded a bit wrong. One thing to consider, though. Rules and regulations for shipping consumables. You need to do research and make sure you're not breaking any laws when you're selling your treats online. Other than that, though – this is a fairly solid business idea that you can grow just from your time on the weekends. I'm giving this a solid 7.5/10 cash rating. Now I really like this next one, and I'm pretty sure you will too.
Job #2 – Helping people with their taxes (which they will LOVE you for)
I absolutely had to include this. Now I know you can't just start being a bookkeeper and earning money this very minute, but this deserves a spot on this list because it's one of the highest-paying jobs you can do online without needing a degree. Becoming a bookkeeper is one of the best work-from-home jobs because the amount of work is so minimal. It can take one to four hours to work on your client's books per month, and the pay that you can charge your client is between four hundred dollars to five hundred dollars.
And just to be straight with you – that means you could be working one hour a month earning five hundred dollars. That's why this is such a great way to make money from home that a lot of people don't even ever consider. This is how it works. Once a month, a bookkeeper records financial transactions for their clients. They then analyze the data and report it back to their client. You don't need any experience to do this either. You might need to take an online course and get familiar with all the accounting software out there, such as Quickbooks Online, Receipt Bank, and Hubdoc. Nimbleturtles (great name) on Reddit started their own bookkeeping business and even said they had a diploma in accounting but didn't need it.
How crazy is that? The type of person that this is really good for is someone who's organized, detail-oriented, and a problem solver, so if that's you, definitely consider this as a great work-from-home job. And how much can you make? Well – that user on Reddit isn't just a nimble turtle. They also earn $45k profit per year after taxes. This person even says they could earn $70k, but they're choosing to scale by going slow and steady … like an actual turtle. Now because this is such a legit way of making a good living at home on your own schedule. I'm giving this a solid 8.5/10 cash rating.
Job #1 – Starting a drop servicing business and retiring early
Now I'm gonna be straight with you because I know some of you guys are gonna roll your eyes that I'm talking about a business model I sell a course on. But this isn't a sales pitch. There's a great reason why I'm talking about it. I believe that drop servicing is hands down the best business model for a beginner to start building a real, scalable online business and make some real money – not just chump change. And let me tell you why. I talk about this in way more depth elsewhere on my channel, but let me give you a nutshell, and you can see if it's right for you. Drop servicing is where you sell a service to a customer for a certain price, outsource that service to a freelancer in a lower-income country, and you pocket the difference as a profit.
It's an example of a win-win situation. The freelancer gets a well-paying job in their country. The client gets a great service, and you get a solid profit for not much work. The set-up costs are next to none. You could even get set up for free if you wanted to. All you need to do is build a system that consistently gets clients. Now that can take a bit of time and effort, but once it's set up – the snowball starts rolling, and before you know it, you're making 10k months on the regular. This is the business model I used to go from working for pennies at a call center to traveling the world running multiple 7 figure businesses, so obviously, I'm super passionate about it.
And the good news is that competition is irrelevant because there are so many niches you could go for that nobody is stepping on each other's toes. You could offer animation services for medical practices, video editing to YouTubers, or copywriting services to therapists. Whatever you can think of, really. And the profit margins are through the roof because running costs are so low. But how much money can you realistically make doing this? Well, from my own experience and those of my students – a hell of a lot. Here's one of my students who closed a 2000 euro sale soon after joining my course. And Michael closed a $3000 sale and made a $2125 pure profit from it. Honestly, the internet has made this possible, and it's amazing.
I basically don't have a bad word to say about this business model because I've seen it change so many people's lives. You can easily end up making $20k per month or more. So for that reason, I'm giving it a solid 9.5/10. It's our winner.