EVERY Work From Home Business That Will Pay You Daily
Blog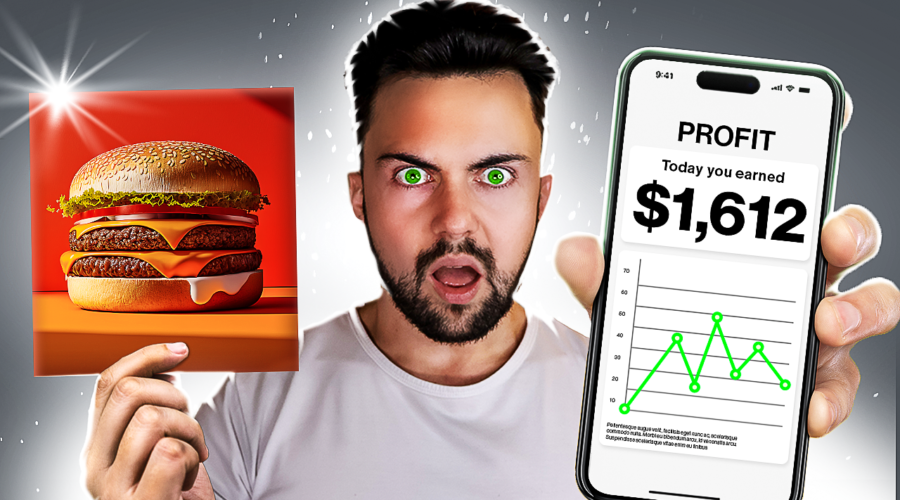 If you like working from home but you don't like having a boss, and you're a total beginner who wants to make some hard cash, then you're in the right place because, in this article, I'm going to be giving you a boat load of work from home businesses that you can start from the comfort of your couch.
Now, I'm going to let you breathe a sigh of relief for a moment because I'm not just going to talk about drop shipping or affiliate marketing for the whole video. You already know about those. What I'm going to be doing is giving you six businesses that I can almost guarantee you've never thought of before. 
Selling Canva Templates Online
Here's something not a lot of people in the entrepreneurship world talk about. Sometimes, the best ideas come to us when we're in our worst moments. 
Back in 2017, Maliha, who now runs The Side Blogger website, was in a dark place. A few realizations had hit her at once. She learned that college degrees don't guarantee success and that jobs aren't permanent. Maliha thought she'd be happy when she landed her dream job. But unfortunately, that dream turned out to be a nightmare.
Unemployed with no income, now she felt lost, stressed out, and like a complete failure. Desperate to earn money, she heard there was potential in blogging. So, in 2018, she started The Side Blogger & got to work designing graphics using Photoshop. But Maliha soon realized that it was so tedious and challenging. 
That was until she discovered the online graphic design tool, Canva, which was like a godsend. Maliha became a Canva geek. She ended up spending most of her time designing new templates and graphics on the platform. Soon, her blog looked amazing, and Canva reached out to her with a sponsorship deal. She was ecstatic. 
As time went on, more and more people from her blog started reaching out to her for her services. So, around January 2019, she set up her first Canva template shop. She started small, but a little over a year later, in 2020, she made her first $1,000 in profit! All from working on the side a few hours a week. 
Now to this day, she brings in at least $2,000 per month, and when you think of the time investment, is around $170 per hour. This business is perfect if you enjoy graphic design. And it doesn't matter if you haven't got the skills yet because they're free to build. YouTube tutorials and the free version of Canva are all you need because Canva is so easy to use. You might be thinking that you need to spend time building a big audience like Maliha did, but that's not true. There are people out there making good money using existing marketplaces like Etsy. 
And needless to say, the startup costs with this business are zero. You're making a profit as soon as you sell your first template. Now, if you want to start selling Canva templates online, here are the steps you need to take. Decide what templates you're going to sell. Decide on your first five products—things like Instagram template bundles, ebook covers, planners, or some kind of worksheet. The next step is to set up shop either on your own website, on Etsy, or Creative Market. 
In fact, screw it. Why not all three? Go nuts. The next step is to design your templates and prepare the deliverables for your buyers. Then all you need to do is list your products in your shops with good product images. Market and promote – then voila. You're now selling templates and making good banks doing it. 
You can make about $2,000 per month with this, which makes it the worst option on our list. We have much better ones coming up, but it still gets a 4 out of 10 because $2,000 per month, well, that's pretty good.
Food Photography
Do you enjoy porn? Don't we all? I'm talking about food porn, obviously. Get your mind out of the gutter. Did you know you could earn a good living by making people salivate by looking at photos of delicious food? I mean, seriously – look at this. 
That's exactly what Melodee, one of the co-founders of Pretty Focused, did when she decided to become a food photographer. She was in the process of building her portrait photography business when she ended up helping a friend with photos for her food blog. It all grew from there to the point where she brings in over $50,000 entirely as a food photographer. This business gives you a ton of flexibility. You get to bake, take photos, and create all from home. 
And apparently, this niche is pretty ripe at the moment. In fact, there are so many bloggers looking for photographers and are complaining there aren't enough of them, so you know the demand is there. Now, you might assume you need a photography degree or something to build a food photography business. This isn't the case. You just need to know how to take great photos that make food look delicious. Surprise, surprise, I know. Now, the gear is the only thing that's going to set you back in the beginning. A good DSLR camera with a decent lens is a must-buy. After that, you've got all your standard photography gear like lights and software. 
But let's say your mind is blown, and you're ready to start. The first thing is to start studying food blog photography. Get on Pinterest and Google and look for your favorite recipes. Ask – how are they styling, and what angles are they using? There are also quite a few Facebook groups out there that are specifically for bloggers to connect with food photographers. Join them and start to put yourself out there. You could make about $4,000 per month, so this gets a 5/10 from me. Now I hope you've warmed up because we're about to do some acrobatics.
Domain Flipping
Sometimes, your life can change in a single moment. The year was 1994, and a man called Chris Clark lived in the town of Maryland, US. Chris was a family man. He owned a consultancy firm. But there was a problem. It wasn't doing so well. They needed to expand their operations and decided that the best thing to do was to attract a pizza company. But nobody at the firm, even Chris, knew how to do that. But one day, Chris had the fantastic idea to buy the domain name Pizza.com to try to attract some attention. 
The idea was out of the box; others thought it pointless, but Chris decided to go ahead anyway. He thought there was no way Pizza.com was available. But to his amazement, when he checked, the domain name was not only available but only $20 a year. That's around $3,000, but it's still cheap today. Chris bought the domain name and waited for the responses to come rolling in. But unfortunately for Chris and his firm, nobody got in contact.
Soon after, he decided to give up and get a few dollars back, so he put the domain name on auction, but even that didn't get any response. That was until one afternoon, when Chris was seconds away from canceling his domain subscription, when he got a call. A call that would change his entire life forever. A large company with an offer was on the other end of the line—an offer of $2.6 million dollars to buy pizza.com.
That amount of money in their account for Chris and his family bought them a life of total freedom and abundance. And the world of entrepreneurship woke up to a new business idea. Even to this day, people out there are making a ton of money buying domain names for cheap, hanging onto them, and selling them for a massive profit further down the line – just like Chris did. There are no startup costs, and the business is so easy to start that a baby could do it.
Okay, it'd have to be a really smart baby, but you get my point. There's also high demand for good domains, with new businesses constantly popping up. Getting started is super easy, too. All you do is search for domain names that might be valuable, choose a domain registrar, value your domain, decide on the pricing method, and find a way to take payment, and you're pretty much there. The profit margins are potentially through the roof since most domains cost around $10 – $15 a year, which is like three coffees … a year.
Now, should you sell your house and buy a bunch of domains, hoping to hit it big like Chris did? Probably not. But even still, according to Hostinger, domain flipping can net you as much as $10,000 per month on average. All for flipping some domains. I give this a 7/10 cash rating because it's so easy to do, and you could make $10,000 per month with it, as we can see. Just remember who helped you when you got the call that changed your life.
Become a sleep consultant 
Have you ever been on a plane and wanted to punch that crying baby in the face? Okay, just me? Please don't call the police. But you know what I'm talking about. Luckily for them, I don't have kids, but apparently, getting them to sleep on a regular schedule can be an absolute nightmare. But you know what they say, where there's void, there's value. And that's exactly what Jayne Havens, a pediatric sleep consultant, realized after she successfully managed to sleep train her newborn son.
Her son went from sleeping through the night to waking every hour wanting his pacifier. It was exhausting for her and the whole family. So, she ended up reading every sleep-related book she could get her hands on. It was tough, but with a lot of experimentation, she could sleep train her son to go back to sleep on his own. This was a lifesaver for him, her, and the rest of the family. Next, her friends were all asking for her help in sleep training their children. Over the years since then, she's become an official sleep consultant and now makes over $10,000 per month doing it, while others can earn as much as $15,000.
If this work resonates with you, then you can train up and become a sleep consultant, too. It's an up-and-coming field. Most new parents have never heard of a sleep consultant, so there's much room for growth. There will always be way more tired parents than there are sleep consultants, so it's up to you to demonstrate what you can do. Obviously, you need to have specialist knowledge and experience in sleep training children. That specialist knowledge is easy to attain and if you've got kids of your own, you've got test customers right there. Now, you could make $10,000 per month with this business idea and the niche as an untapped well – but not everyone can do it. That's why it only gets a 7 on the cash rating scale for today. The next one is a much cleaner idea.
Open a laundromat
Now you might not consider opening a Laundromat to make serious money, but every now and then, the most amazing business opportunities are hiding where most people wouldn't ever think to look in plain sight. 
Most people laughed at Jeff and Sarah Orgill when they came up with this idea back in 2017. Jeff was an entrepreneur at his core, and he had a thing for spotting opportunities that most people couldn't. But everyone laughed at him when he mentioned the possibility of buying the local little laundromat (Rosie Wash Express Laundry) and turning it into a thriving and massively profitable business. They couldn't see the potential in a tired laundromat with rusty machines, peeling paint, and a broken neon sign outside.
The thing looked like it was stuck in the 80's. Everyone thought Jeff was crazy. But he bought the place anyway. With a vision nobody else could see, Jeff and Sarah got to work redesigning logos, revamping the interior, and slowly creating a new brand around Rosie Wash. It was hard initially, but the laundromat slowly started making a profit. And by the fourth quarter of 2020, the company's income had more than doubled. Now, Rosie Wash brings in $300,000 per year and is a massive success. 
Everyone thought that Laundromats were done. And they were wrong. Even today, a laundromat business is one of the businesses with the highest success rates at 95%. And you might be asking why this is on a list of work-from-home business ideas. Well – many laundromats are 100% automated. This means you only have to make sure the place is well maintained as you sit at home counting the cash it brings in. It's 100% passive income.
Once you get past the startup costs, you'll be turning a profit sooner than you think. And speaking of start-up costs – because this is a well-established business model with a statistically high chance of success, you'll be able to get a loan easier than most other business models. According to Laundromatresource.com, the average Laundromat earns around $500 per day, which comes out at $15,500 per month, so even if you don't achieve crazy success like Jeff and Sarah – you'll still come out on top eventually. Get started by doing your research and checking out some potential locations to buy in your local area.
Get a bit of a business plan together and crunch some numbers. Decide if you're gonna do a self-service laundromat or if you're gonna offer home delivery, too. Then it's just a case of getting out there and doing it. Get a loan if you need to. It really is that simple. Because this business is so easy and simple to run with a high chance of success, and you could make $10,000 per month, I'm giving it a very clean 7.5/10 today.
Meal Prep Business
In a world where Ubereats and Doordash have the food delivery market cornered, you might think that a meal prep company couldn't possibly take off today. 
Well, you might be surprised to learn that meal preparation and delivery is one of the fastest-growing industries in the US. It's expected to expand threefold from 2017 to 2024 and reach $7.6 billion in annual revenue. This is definitely a fast-emerging market that offers a real opportunity to make good money. And one of the people raking in the cash from this is Andy Sartori, who founded MealPro in 2017. 
The idea came while he was out for dinner once with a couple of his friends. They all ordered the same thing despite being completely different people with different body types, goals, and calorie requirements. But they were all given the same portion. He saw that one of his friends ended up eating more than they needed for their goals whilst his other friend ate barely enough. Andy saw an opportunity to change that. From this idea, Andy started MealPro. An online food delivery service that specializes in custom, ready-to-eat meals. 
Unlike other startups, MealPro makes and sells the product themselves and lets the user customize their meals to a T. Fast forward to today, MealPro is generating over $50,000 a month, and that figure is steadily increasing. So, what do we know from this example? Well – busy, health-conscious people need to eat, too. And Uber doesn't always cut it. That means that if you want to start a meal prep business, then you can absolutely do that. 
To kick things off, pick what you'll cook and for whom – choose your specialty and target customers. Create a plan, outline your goals, and how you'll make money. Get fresh ingredients and basic tools – find trustworthy suppliers and whatever equipment you'll need. Then, once you've set up your website and made ordering easy for people – it's just a case of iterating and improving the service. The potential income for this business model is massive, you could make $50,000 per month, and for that reason, it's getting an 8.5/10 cash rating from me.