EVERY High paying Online Job That Will Pay You DAILY ($15,000/month)
Blog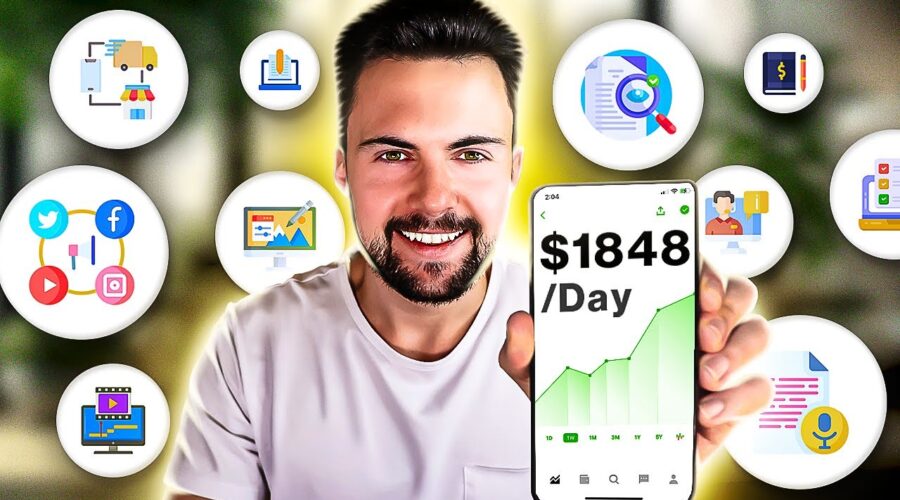 If you want to make an extra 1000 dollars or even fully replace your full-time income, there are a ton of websites out there that will allow you to do exactly that. And the best part about it is that these jobs are easy and you can get started absolutely for free. And in this video, I'm diving into the top 11 websites that you can sign up for and start making money that very same day. And the best part about these websites is that they're completely free and easy to sign up and start making money. If you're skeptical, I'm gonna be giving you concrete examples of real people who've earned money with each website so you know it's legit. Let's get started.
If you have an opinion, don't mind sharing it and some free time on your hands – you could earn a nice side income with Google Opinion Rewards. Now I'm not going to sugar coat it. If you're expecting to replace your full time income with answering surveys, you're going to be sorely disappointed. But that shouldn't surprise you. Luckily though, that's not the point of them. The point is that you spend your free time answering some fun little questions and you can replace a bill or two at the end of the month. All for just being sat on your couch answering a few questions. I mean – most of us spend a lot of time on our phones anyway so you might as well get paid for it, right? Surveys range from a few seconds to a few minutes long and help Google and other researchers improve their products. It's also good to know that you're answering survey questions for a company that's apparently quite well known. And in case you're wondering how much you can earn – you'll get between $0.10 and $1.00 per survey completed. This can add up. For example, the nesquik rabbit earned a cheeky little $25 from a bunch of surveys. I guess chocolate milk isn't selling so well these days. Getting started is pretty easy. Just download the app and answer basic questions about yourself. They'll then send you surveys when they become available. You'll get a notification on your phone when a short and relevant survey is ready and you'll get rewards for completing it. I'm giving this a solid 1.5/10 cash rating. Now – if you like answering questions for money – you'll like this next website.
Now this next side is similar to Google Opinion Rewards except it apparently pays a lot better. Pinecone Research (include this clip) is a legit rewards platform and consumer insights panel with a pretty solid reputation. It's over a decade old and it shows no signs of slowing down. All you do is take part in research tasks like surveys and product testing. You can then redeem these points for cash or other kinds of merchandise. Now there's something you should know about this one. Pinecone Research is a pretty exclusive club. It's more exclusive than most other survey platforms. In fact, instead of having an open sign-up form, you need to receive an invite which can either come from another member or from a banner ad. You can't just show up and get in. And if you're wondering how much you get paid – each survey on Pinecone Research pays a minimum of 300 points which equals $3. Now when doing the research for this video I was really impressed at some of the reviews. For example this verified user from the states earned $306.50 using the app and even thinks the surveys are fun. What a madman. To join, go to join.pineconeresearch.com to see if they have opportunities in your region. If they do, create an account and once you're registered as a Pinecone Research panel member, you'll get notifications of new studies via email or the mobile app. This get's a solid 2/10 cash rating from me. Now I hope you can type quickly for this next site because you're going to need it.
Now a lot of people are skeptical when I say an absolute beginner can start making money online. That is until I tell them all about transcription jobs and how much they're in demand. AI hasn't taken this one off the job market yet. Not by a long shot. A total beginner can get paid to listen to audio files and accurately transcribe them into written text. One of the quickest ways to get started with this is to use Transcribe Me which is one of the biggest companies that offer paid transcription jobs. All you do is sign up, take an english entrance exam and once you've completed it and been accepted – you can start transcribing and earning money doing it. General transcribers earn $15 per audio hour and the amount you earn really does depend on how quickly you can transcribe. According to my research, it looks like you won't be earning much in the beginning but if you stick with it and get faster you can end up making a surprising amount of money doing it. For example, this guy from Kenya earned $50 at a rate of $10 per hour which isn't bad. Now I will warn you – audio transcribing isn't for everyone. It can be rough in the beginning and to get paid your transcriptions have to be super accurate or they'll get rejected. But if you're fast, you can earn fairly decent money from your laptop at home working with your own schedule. Definitely worth checking out. I'm giving this a 2/10 cash rating because you can put in the work and earn more over time. That being said, we've got better options on this list coming up.
Do you like to earn free cash? Well there's a website that can help you do that. And it's called … Free Cash. This is what's known as a get-paid-to site (or GPT site for short). They host a bunch of different offers and tasks for you to complete in exchange for rewards like cash and gift cards. These tasks usually come from third-party companies who pay Freecash a commission every time they refer a user who completes a task. Everybody wins, really. It's a legitimate money making website that was founded only a few years ago. You'll be doing things like surveys, signing up to websites or apps and claiming offers. This was the most highly rated GPT site out of 20 according to swiftsalary.com so you know it's 100% legit. It's also rated a 4.6/5 on Trustpilot. And another good thing about this one which sets it apart from the others is the bonuses they offer. If you earn the most coins on the leaderboard in a day you could get up to a $250 bonus straight to your account. People are generally pretty happy with this one. For example this user from Canada earned $60 in a month just from using the site a few times. That's pretty good money for the time investment, I'm sure you'd agree. Getting started is easy. Just create an account. Start earning. It's honestly as simple as that. And that's one of the reasons I'm giving this a 2.5/10 cash rating. Before we move onto the next one which is a better money maker – I need to say something.
Now I have a confession to make. I'm a filthy cheater. Why? Because this website is similar to another couple of sites on this list in that you do surveys and test things for money. But hear me out. The reason why I've added this to the list is that it's in a league of it's own. Other survey sites pay you pennies. Useresting.com pays you in solid green benjamins. Dollars. And lots of them. Some of the largest companies in the world use usertesting.com to gain insights into their products. There are companies that are more than happy to pay really good money to get real feedback from real people. Well how much exactly? You'll earn around four dollars for every five minute survey. You'll earn 10 dollars for every twenty minute survey. And between 30 and 120 dollars for every live interview that can last between 30 minutes to an hour. That's why I included this on the list. But what exactly will you be doing? Well this site is a usability customer experience platform. It exists to help companies improve the user experience of their software and products. That means you'll be testing things like websites, apps and even actual physical products to make sure that the user experience is top notch. To get started you'll need a computer, a stable internet connection, a microphone if your computer doesn't already have one built in and a paypal account if you want to get paid. Just go to usertesting.com click at the very top where it says get paid to test enter your email and follow the instructions to get started. And to prove to you it really works, Alice and Lindsay from thesmartwallet.com tested it out in this article. Alice made $210 in just a few months and Lindsay made $470 in the exact same period. Really not bad for a bit of extra cash, I'm sure you'd agree. Because of the high pay relative to other survey sites, I'm giving this a 4/10 cash rating. Not perfect but a great little earner. Similar to this next site.
Some of the world's largest companies need solid research to improve their offers. That's why they use field agent to perform various tasks for their business. And doing these tasks is a great way for you to earn extra money. Using the app you can gather information for brands and retailers by taking photos, sharing opinions and completing other tasks. Many of these can be done while doing things that you would normally do anyway. For example, on your grocery shop you can earn money just by taking pictures of marketing material to make sure that they're being presented properly. And your feedback helps companies give the best products and experience possible. There are millions of people already making money with field agent and so this is definitely a legitimate way to make money. And the best part is that the app will pay you immediately after you finish a task. But how much can you make? Great question. The average rate seems to be about 10 – 20 dollars per hour which isn't terrible. This guy from sidehustlenation.com shares a screenshot from his app showing that he made $446.44 using the app so you know it has the potential to be a solid earner. Getting started is pretty easy. Download the field agent app then reserve and complete a job. When the job is finished field agent will check your submission and once your submission is approved money will be sent directly to your bank account. You're getting paid for going shopping which is a winner in my book. For that reason I'm giving this a nice and easy 5/10. Not perfect. Not bad. But this next site blows it out of the water.
English is the most commonly spoken language in the world. If you're an English speaker, you can teach it to other people through a site called Cambly. I would do it myself but my kiwi accent and all the slang words might be a bit difficult for a lot of people to understand. Do you know what a chook is? It's what we call a chicken. Exactly. Now the best part about this site is that you don't need any qualifications or a university degree to get started. No previous teaching experience is required at all actually and you just need a laptop with a decent webcam. To get started you just register on the site, fill in a bunch of forms, pass an equipment check, create an introductory video and start getting hired. It's way easier than I expected it to be. Tons of teachers reported that they got accepted just 12 hours after applying. But the fact that it's so easy to get started means the pay is around $10 per hour when you first get going. This isn't terrible though. Especially for a side hustle income from the comfort of your couch. And it can increase over time. Now in case you're wondering if people actually get paid, Shane Smith from Reddit works as a Cambly tutor for 3 – 5 hours a day and takes home an extra $600 – $1000 per month doing it. Sweet as, eh? See – I'd be bad at this. But you might not be. I'm giving this a solid 6.5/10 cash rating because it's so legit. 
Despite what the name might suggest – Jeff Besos didn't finally go crazy and build a giant Turkish robot. Amazon Mechanical Turk is a site that let's you earn money by doing a bunch of "human intelligence tasks" which include things we've already covered such as survey questions and audio transcribing. But you'll also be doing tasks such as video transcribing, rating YouTube videos, categorization tasks and more. Online grunt work, basically. But the golden question you're asking is – how much can you actually make? Well it seems that for this one the pay can vary quite a lot. You can earn as little as $2 per hour if you put very little work into it. But here's a case study of Mike Naab from sidehustlenation.com who earned a total $50,000 over 6 years using this as a side hustle to supplement his full time income. He calculated that he was earning an average of $16 – $22 per hour just doing some small tasks in his spare time. When he was focused on it, he was earning $150 – $300 per week on the side. And this wasn't a fluke. He got a few friends of his signed up and earning $100/week after only a couple of weeks. It's a very easy to start side hustle and after completing a certain amount of tasks – you get access to more highly paid work which is how Mike ended up earning more than most. To get started you can sign up for free at mturk.com and it takes about 48 hours to get approved. After that you're in a probation period for 10 days and need to finish a task or two. After that you're free to take on tasks and start earning right away. All from your pyjamas. I'm giving this a 7/10 cash rating thanks to Mike.
AI hasn't completely taken over yet. And it turns out – companies like Microsoft, Amazon and Adobe all need humans to train their algorithms and improve their services. This is what Appen does. With this app you've got a bunch of work-from-home opportunities that are super beginner friendly. You'll be doing things like web research and data entry jobs to transcription and translation. Anything that helps algorithms get better and more accurate. And how much do you get paid? In general, people have reported salaries in the $12-$14, but some have said they've been paid in the $18 per hour range, and depending on where you live, that may be good… or not so good. It's not likely going to replace your full time job, but it can be a decent, part-time earner where you can set your own schedule and dance to your own tune. To get started, go to connect.appen.com, create your account, go to the projects section and start applying. You won't have many projects available when you first start but when you've got the ball rolling – that ball rolls hard. For example, this writer from the curiousfrugal.com talks about how she made $2300 using Appen as a side hustle. Definitely a good one to check out. This gets a solid 7.5/10 cash rating from me.
I'm just gonna come right out and say it. There are companies that will pay you for your poop samples. Yeah that's kinda disgusting to be honest but it's absolutely true. And you might be thinking "nah I'm not getting paid a few dollars to give my poop to someone" and I totally get it. But here's the thing. It isn't just a few dollars. It's a lot of money these companies are willing to pay. Human Microbes is just one of about 10 companies I found that will pay you big money for your stool samples. For example, these guys pay $500 per sample. That's $180,000 a year just for doing something you'd hopefully be doing every day anyway, as this person from TikTok learned. Now before you run to the bathroom, there's something you should know. I know this might sound ridiculous and silly but there's actually a good reason they pay so much. Good samples are essential for research into fatal diseases that could potentially save lives. And apparently almost everyone is so unhealthy now that they struggle to find people with healthy gut bacteria. They're desperate for eligible donors so they're willing to pay a good full time wage when they find one. For that reason, not just anyone can donate. They estimate that only 0.1% of the population will have what they need. So unfortunately, our chances are pretty slim. But hey – it's worth a go, if you ask me. If you end up making as much a doctor you might want to avoid telling people how you do it. Just saying. Now the earning potential is massive but the chances of you getting accepted are low. If it weren't for that, this would be the king. Unfortunately, it just misses the top spot with an 8/10 cash rating. So now it's time to talk about the leader of the pack.
The goal of this video is to help you make some bank online from the best websites available. So naturally, I had to include Fiverr because it's the original freelancer platform and it's only gotten better and better. And don't worry if you don't have a solid skill like copywriting, graphic design or video editing. There are some straight up bizarre gigs that creastive people have come up with to earn money through the platform. For example, you can rent this person to pose as your friend for a one hour phone or video call (but only in Spanish). Want to learn how to communicate telepathically with your pets? Well now you can get private coaching for it. Did your boyfriend or girlfriend break up with you? Well obviously you should hire a psychic to cast an ancient Romani spell on them to get them back. So yeah – needless to say the options for making money through Fiverr are apparently only limited by your imagination. But let's talk hard cash. How much money can you make through this? Well like a lot of the options on this list – it can vary quite a lot. However, there are some people earning well over 6 figures a year purely through Fiverr. And there are many more people who started out freelancing on Fiverr who went on to get hired by other companies off platform. For example, this user from South Africa managed to bank $7,560 entirely through Fiverr alone. If you're looking to make good money, you should absolutely check out Fiverr. Now the rating I'm giving this is based on the fact that people have formed entire careers from starting out on Fiverr. I'm also rating it based on the fact that you can be super creative to earn money. I'm crowning the king today with a solid 9/10 cash rating. If you aren't on Fiverr and want to make some bank – start there. You won't regret it.