EVERY High Income Work From Home Job ($50,266/month)
Blog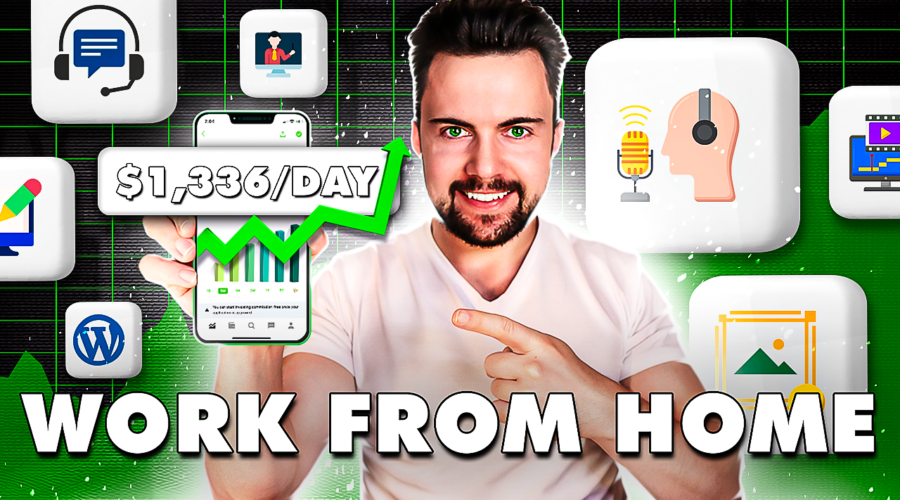 I used to work in a call center. And it was bad. Like, really bad. But the cold calling wasn't even the worst part. Do you know what that was? The commute. Being stuck in Melbourne traffic going to a place I didn't wanna be was soul-destroying. And according to a couple of studies, long commutes are pretty much guaranteed to make you more miserable. So, I'm making sure that by the end of this article, you'll never need to commute again.
In this article, I'm giving you five high-income online jobs you can do from your desk at home or even your bed if you're too lazy to get up. No judgment. Now, I've made sure to choose jobs that have a high income-to-skill ratio. Even if you don't have the skills to make big money straight away, those skills are free to build using YouTube. If you're ready to make money online but aren't sure how let's get right into it.
Job #5 – Online Tutor
If you already have an area of expertise and want to make some extra money on the side, tutoring can be a great side hustle that could potentially turn into a full-time career. Bonus points if you're already a teacher or are studying to become a teacher. You'll fit right in and start making money pretty much immediately. Now, online tutoring has made becoming a tutor easier than ever before. And you don't just need to teach English. I'll tell you why in just a moment.
There are a bunch of online tutoring websites you can sign up to, which I'll get to in a moment. These sites allow you to choose your own schedule, and they fill your time slots for you. But what do you need in order to get started? Well, you don't technically need any qualifications or even experience. You can get started tutoring basic English language, for example. However, for many tutoring gigs (especially the higher-paid ones), you'll need a degree. If you have higher qualifications, you can get more clients and earn more money. Most of the tutoring jobs are one-on-one with a student. You'll be going over each area or material where they have problems or questions. However, you might also lead group tutoring lessons online. 
Now, let me give you a couple of sites to get started. The first is Wyzant, which is an online marketplace that connects students and parents with tutors looking to help. Creating an online profile is free and easy with these guys. The following site is called Preply, and the interesting thing about this one is … well, to be honest, nothing because it's pretty much precisely the same as Wyzant—an online platform for tutors. Sign up. Teach. Get paid. However, Preply seems to have a stronger demand for language Tutors than Wyzant, so that's something to consider. 
The last one I wanted to show you has the most obvious and uncreative name. And that's tutor.com. I hope they don't teach creative writing on that site. I recommend you check this one out because there are over 250+ subjects that you could potentially teach on this site so there's something for everybody. Let's talk about cheddar. How much can you make? Well, rather than take a tutoring website's answer at face value, I found a guy who makes $2,000 to $2,500 a month tutoring in computer science. Not dreadful. And you're helping people learn stuff, which is rewarding in itself. For that reason, it gets a 3/10 rating.
Job #4 – Text Chat Customer Service
Now, for this next job, you don't need specific skills or knowledge, which makes it pretty easy to get into. And here's something you might like – if you're a bit of an introvert and you don't like chatting on the phone with people, being a chat agent working online could be ideal for you. 
You'll be handling multiple chats at one time, helping people out with all kinds of customer service-related stuff. A plus with this job is that it gives you quite a bit of flexibility because many companies give you flexible hours to create your own schedule. And you only need your internet connection and a laptop. You could even do this job from a minivan if you wanted. And you can get paid more than you might think. 
But it's not all good. There's a reason this isn't number one on this list. Chatting with customers who are often p*ssed off as you try to help them solve all kinds of problems can get old very quickly. You might also be expected to work non-traditional work hours. Think of evenings, weekends, and public holidays doing a job that can be stressful with the workload. And while this is an easy job to get into and start making online income – it rarely goes anywhere. The opportunities for career advancement are pretty limited, and after a while, you aren't really learning anything new. Sorry if I killed your buzz.
But it's not all doom and gloom. Let me tell you about the pay. I found a job on up2staff.com that pays up to $35 per hour for an online customer service representative using just text chat. For a 40-hour week, that works out at $5,600 per month, which isn't bad at all. To become an online chat agent, most companies need you to have a high school diploma, solid written communication skills, and a fast and accurate typing speed. You can find all kinds of chat service jobs using the usual job websites like Upwork and Indeed. This would get a higher rating from me because it often pays well, but there are better options on this list that won't make you question the meaning of your existence. 5.5/10 is all I'm giving it. This next one is way more exciting and creative.
Job #3 – NFT Artist
If you have a talent for digital art and want to make some money doing it, becoming an NFT artist could be a great route for you. I'll explain what that means in a moment, but first, if you don't think digital art can make much money, let me blow that idea out of the water right now. 
A few years ago, something crazy happened.
A piece of artwork called "Everydays: The First 5,000 Days" sold for $69.4 million in an online auction. It was the first time a major auction house offered a digital-only artwork with an NFT (non-fungible token) to guarantee its authenticity. It was also the first time the world saw how much digital art can make. Since this sale, NFT artists have been on the rise. But what is an NFT artist, and how can you make this work for you?
An NFT artist is someone who creates digital art and sells it as a special kind of digital certificate called an NFT. NFTs show that the art belongs to the artist and can't be copied. It's like proof that the artwork is the original instead of a copy, which makes it way more valuable. But why would you choose to become an NFT artist? Here are a few reasons. First, it can be a great source of passive income. You gradually build up a portfolio of artwork that brings in money when someone buys or sells it later. You're also the boss and determine your own schedule. If you're into NFTs and the crypto scene, then you can leverage your network to your advantage. But it's not all great. The prices of NFTs can change a lot, so you might not always make a lot of money. It can also be expensive to make and sell NFTs because of transaction fees. It's also a headache to make sure you protect your art from being stolen or copied.
But if that's not a problem, you can make some decent money. According to a study from web3.com, NFT artists can be paid anywhere between $40,000 to $210,000. But for an average NFT project, you can expect a salary between $45,000 and $80,000 per year if you end up getting employed as an NFT artist for a project. Now, you might be thinking you need a serious following on social media to sell artwork if you go the personal brand route.
That's not true. This Redditor recently made 6k from two pieces of artwork from a small but loyal following. And for this article, I looked at 100 NFT artists in the $100k club who use Twitter and the median audience size is 2,032, so that's really not a lot. You don't need a big audience, but you do need to do a few things to get started. You need to create digital art that you love and want to share with others. You'll need to set up a digital wallet like Apple or Google Pay to store your NFTs and interact with NFT platforms. Then, you can choose a website where you can sell your NFTs, like OpenSea or Rarible. Follow the steps on the website to turn your art into NFTs and put them up for sale.
Use social media and online communities to show your art to people and get them interested in buying it. It's quite simple but it all comes down to the quality of your artwork and your ability to network. The crypto crowd is like a cult. They all know each other and there's a ton of money flying around. Overall, this is an excellent option if you have a talent for digital art and a passion for crypto. That being said, it's not for everyone, so I'm giving this a 6/10.
Job #2 – Voiceover Artist
If your party trick is to make impressions of people, then you may not know that you can get paid a decent chunk of change for doing it professionally. Honestly, whenever I think of voiceover acting, I think of that scene in the movie Mrs. Doubtfire with Robin Williams (show 5 seconds of this clip). And although in the movie, he couldn't make money doing it – he'd probably be rich if he did it online today. Voice actors can find work across ads, video games, animated series, podcasts, and more, and the pay's not bad either. The average voice artist earns around $37 dollars an hour, according to Backstage.com, and you can do this remotely from a home studio. This is a potentially very lucrative online job. But let's address the big robotic elephant in the room. AI. Well, there's an AI tool online now called Eleven Labs that can take a clone of your voice, so theoretically, voiceover jobs are under threat.
But the thing is, if you want to make money with voiceover work, I wouldn't be too concerned. Only the unskilled grunt work is under serious threat. A good voiceover artist needs to be able to convey emotion and follow the client's instructions well. You can still do this job and make good money with it. Now, let's talk about the pros and cons. You get the freedom to work from anywhere and set your own schedule. And if you want to work in your PJs, then absolutely go for it. Nobody is stopping you. It's also a creative job that lets you really get into it in order to bring a character or voice to life. From researching this job, one consistent thing I come across is how much everyone enjoys this job.
It has its downsides, but professional voice actors are raving about it, which is quite rare to see. But what are those downsides? Well, for one – it's quite competitive. You'll be up against some talented people who've been in the game for way longer than you. Standing out from the crowd and landing gigs can be challenging, especially when you're just starting out. And working alone isn't for everyone. It can apparently get quite lonely at times. You've also got the technical challenges of recording, editing, and delivering high-quality files. You need a good setup, and you need to know how to use it. And lastly – there's no job security. You'll be working in a freelance capacity most of the time.
Online voice-over work is less like a job. It's more like a solo business. It isn't for everyone. Now, with that reality check out of the way – how much can you make? A decent chunk, actually. For example – this voiceover artist is on track to bank $120,000 a year and makes a solid point in this comment. It helps to really love what you're doing. Now, to get started earning money as a Voiceover artist, there are a couple of websites that can help. Voices.com is a good one, as well as voice123.com. If you go to those websites, create a profile, upload samples, and reach out to people with proposals for jobs – you can start earning surprisingly quickly on that platform. Purely for the fun factor coupled with great earning potential, this is getting an 8/10 rating from me. 
Job #1 – WordPress Web Developer
Now, when I say to someone that web development is a great earner, they usually freak out a bit. I know it sounds scary, and I admit that web development can be quite complicated. But what I'm suggesting is simple. Make websites for people using WordPress. You don't need to know code or be able to navigate the back end in order to make great money-making websites for people. There are loads of people out there who don't have the time, energy, or knowledge to make websites of their own. And you can do it for them. WordPress is easy to learn using YouTube tutorials, and there is a whole boatload of plugins you can install to make things even easier. 
One of the main ones is a theme plugin called Elementor, which gives you access to a whole bunch of pre-built templates you can use for your clients' websites. They'll get a professional-looking website that you've created easily from scratch with a template without having to know code or pretty much any programming language. It's a win-win. So, when you know how to create great websites with Elementor, finding clients will be the main thing to figure out in the beginning. You can start with Upwork and Fiverr to build up your skills, reviews, and experience. One thing that will help you get a steady stream of clients ready to pay money to work with you is choosing a niche. It adds to your credibility if you can prove that you'll be able to meet a client's specific needs. 
For example, if you've had therapy in the past, you might want to focus on designing websites that help therapists get more patients. Or if you've had an injury and are rehabilitated, you could target physiotherapists. You don't absolutely need to know the niche at the start, but it helps you get off the ground if you do. So, how much can you make by making websites for people? Well, actually, I found a pretty funny example online of a guy called Inappropriate Hotdog who's complaining about making $100,000 a year as a freelancer. He was so angry about this that he threw a hissy fit and finally caved in. Now, he earns over $200,000 a year working for someone else making websites. I feel pretty bad for the guy, honestly. Show your sympathy in the comments below, everybody. And just to be clear – that was sarcasm. But this goes to show how much money you can make with this job. $200,000 a year or $16,666 a month. I'm sure you wouldn't complain about that, would you? It's creative, and it pays a ton, so for that reason, this job is our winner for this video.
Now, in this article, I've given you a bunch of ideas to get started earning good money online. But none of these methods are a 10/10 except for one I didn't mention. It's the number one business model out there right now, and the best part about it is that it's still an untapped well. There's loads of opportunity and very little competition. So, if you want to know how I went from working in that dead-end call center to traveling the world running multiple-figure businesses – I'll tell you about this business model that allowed me to do it. If that sounds good, check out the exclusive FREE 2-hour Drop Servicing Training, where I'll tell you everything you need to know to earn your first $10,000 online.