EVERY App That Will Pay You Daily ($800/day)
Blog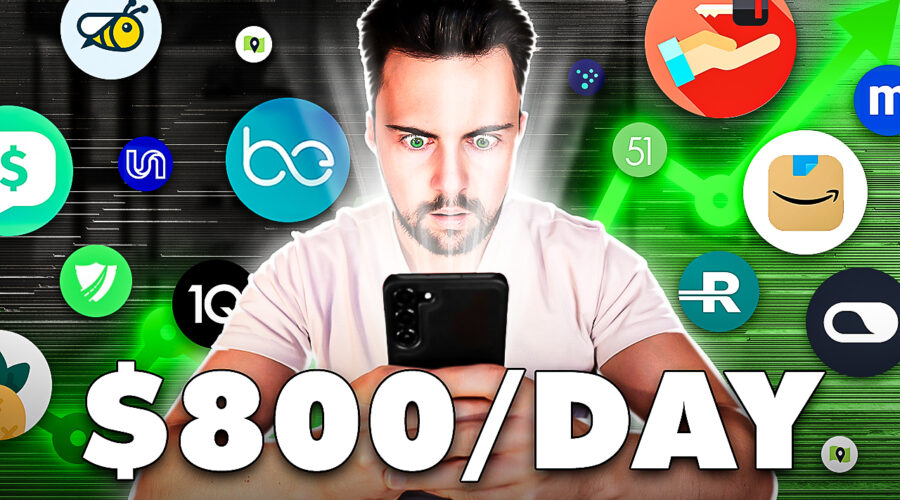 Do you have a phone? Do you like making money? Well, in this video, I'm giving you 15 apps that you can use to make money daily. And the best part is that all of these side hustles are absolutely free and easy to get started. If you're skeptical that you can make money from your phone using apps, you won't be by the end of this video. You just download the apps, do a couple of things, and get paid that same day. Let's get started.
It's time to get some Pesos from Besos. I'm sorry about that joke but I promise you I'm not yanking your chain. Amazon actually has an app that you can use to make easy money on your phone. This is crazy easy money so pay attention while I explain it to you. This app is called Amazon Shopper Panel and with this you can earn monthly rewards by sharing receipts from purchases made outside of amazon. You can also make more by completing short surveys and enabling ad sharing. All you have to do is just upload 10 eligible receipts into the app every month. When you do this you'll earn ten dollars towards your Amazon balance that you can then use to shop on amazon. At the absolute minimum you can expect to earn at least ten dollars per month using this app and if you're doing other things like taking surveys or participating in ad sharing then you can expect to earn even more money. As this user said, it's literally $10 a month for free – so what what are you waiting for. You'll struggle to find an easier way of making money. Well actually – you're watching this video and we've got some coming up. I'm giving Jeff a 1.2 out of 10. 
YOU COULD MAKE: $0.42/DAY  $12/MONTH (FREE)
RATING 1.2/10
Do you enjoy playing games on your phone? Well did you know that you can actually make money doing it? That's exactly what you can do with an app called Mistplay. Mistplay is an app that lets you find new games and earn points for playing them then redeem your points for Amazon gift cards, prepaid Visa cards and a lot more. It's got a solid 4.4 rating out of 5 on the google play store and you can make up to $50 per month with it. Check out this user who earned a $100 just for playing games. But what rating do I give it? Well purely for the fact that you're playing games and getting paid for it, I'm giving Mistplay a score of 1.7/10 cash rating. Now this next one is for those who are feeling a bit lazy.
YOU COULD MAKE: $0.46/DAY  $13/MONTH
RATING 1.7/10
Since we're on the topic of free money, let's ride the wave with another app that pays you for practically nothing. Tapestri is an app that pays you up to $25 per month for sharing your location data. You also have other earning opportunities, such as taking surveys, tapping notifications, and inviting new people to join. But other than that – you just earn money for doing what you were already doing to begin with. This user earned $344 so far for doing nothing and just look at this review. It's a 100% legit app and payments arrive fast. So honestly I have no idea why you wouldn't download this app and start getting paid. We like free money so for that reason I'm giving it a 2/10 cash rating. Unfortunately, if you want to make big bucks, you can't rely on free money. Make sure you watch to the end for the heavy hitters.
YOU COULD MAKE: $0.89/DAY  $25/MONTH (FREE)
RATING 2/10
But first let me ask you something for a second. Wouldn't it be amazing if you could get paid for leaving comments and likes on YouTube videos? Well guess what? You can't. But that doesn't mean you can't do it anyway. It would really help this video reach more people.
Some of these apps focus on one thing to make money. But I found some others that give you a few different things to do to make money. Checkout 51 is a rewards platform where you can earn and save money by scanning receipts, getting cashback on groceries and gas, answering surveys, and other odd jobs. It's absolutely free to join and it can help you out a serious dent in your monthly outgoings. It also helps that it's a verified legit company so you'll get no funky business. A good little earner. Dylan Houlihan from Canada earned over $400 using the app and mentions how easy and simple it is to use. Definitely worth checking out. I'm giving this a 2.1/10 cash rating. 
YOU COULD MAKE: $1.19/DAY  $33/MONTH
RATING 2.1/10
What if you could download an app that pays you for nothing. That's kinda silly but Honeygain is the closest thing you're likely to find. It's an app that allows you to earn passive income by sharing your internet connection. Any internet you don't use, they skim it off the top and pay you for it. Now the earning potential can vary depending on your location in the world. According to data gathered by swiftsalary.com, users can expect to earn between $1 and $35 a month. And to prove that it gives legit payouts, here's proof from the Honeygain discord server. Now you don't earn a lot but it's free money. As long as you don't mind the usual risks that come with sharing your IP location – it's a winner. For that reason I'm giving it a 2.3/10 cash rating. But this next one is for you if you love driving safely.
YOU COULD MAKE: $1.25/DAY  $35/MONTH (FREE)
RATING 2.3/10
On my way is an app that will literally pay you to not use your phone or text while you're driving. The app activates when you start going over 10mph and you get paid 5 cents in rewards for every mile you drive without texting or using any distracting apps. You also earn $2 for every referral that signs up and you get paid 2 cents for every mile your referrals drive, too. It locks your phone but you can still make and answer phone calls. It just knows if you load up instagram, tiktok or any other distracting app. Now the app will pay you $100 right away when you sign up. The average person drives around 1000 miles a month which equates to around $50. And that's not including referrals if you get your friends on it, too. Now this isn't a bad option especially if you drive long distances. For example, this user earned $38 in a day and a total of $676 so you know it's legit. It's great if you have a retail therapy addiction and you drive everywhere. But other than that, there are much better options on my list. So I'm giving this a cash rating of 2.8.
YOU COULD MAKE: $1.78/DAY  $50/MONTH
RATING 2.8/10
App #9 – Zogo
One of the craziest things is how we're never taught financial literacy. But that's what makes this app so special. Zogo is essentially an app that rewards you for improving your financial literacy. It's up to us to teach ourselves and with this app, you'll do that while earning rewards in the form of pineapples. I kinda wish you got paid in pineapples but that's just the name of their currency. You can then redeem this for gift cards and a lot more. This user earned $75 in a single month so you know this is a 100% legit way to earn. For the principle behind it and how important the topic is for you if you want to make good money – I'm giving this a 3.4 cash rating. 
YOU COULD MAKE: $2.67/DAY  $75/MONTH 
RATING 3.4/10
I'm not going to lie. Surveys won't make you rich. I hope to god that isn't a shock to you. But they are a good way to make a bit of money on the side when you've got some down time. If you're gonna be on your phone you might as well use it to make some cash, right? Surveys On The Go is a pretty high rated app and a good way to earn money fast. As soon as you download the app you'll earn a dollar. Whenever you've got free time you can load up the app and fire off a couple of surveys. You can also enable notifications so the app tells you when you've got some higher paying surveys available. For each survey you'll earn between 1 and 5 dollars but some surveys can pay over 10 dollars. People are singing praises of this app. This user earned $106 of easy side money for answering some surveys. Just download this app from the google play or app store and start making some easy money. I'm giving this a cash rating of 4/10.
YOU COULD MAKE: $3.78/DAY  $106/MONTH
RATING 4/10
Next up is an app that lets you earn money for finding bugs, usability issues, and other problems in websites, applications & even physical products. You just test stuff out, report any issues that come up and get a notification that the money has gone into your PayPal account. It's that easy. Another bonus is that this app is 100% legit and one of the most highly rated apps according the swiftsalary.com. The earning potential is solid, too. For example, Bernardo from Italy earned $319 in a few months in his spare time. It speaks for itself doesn't it. This gets a 4.1 cash rating from me.
YOU COULD MAKE: $3.80/DAY  $106/MONTH
RATING 4.1/10
If you love gaming on your phone – I have a question for you. xWhy aren't you getting paid for it? Because that's exactly what Reward XP is all about. Here you can earn money by taking surveys, doing promotional offers (like signing up for new services), playing games and watching videos. It also has it's own Discord so you can take part in community giveaways and potentially earn some more that way. You can earn big money if you put in the work. That's what Ridwan did from the UK and he earned over $1500 side income. From a gaming app. Not bad, right? I'm slapping this with a solid 4.8/10 cash rating.
YOU COULD MAKE: $4.46/DAY  $125/MONTH (FREE)
RATING 4.8/10
Do you have an opinion on things? Well – maybe you'd like to share that opinion with other people in exchange for some pretty decent money. dscout is a rewards platform that let's you join and make money sharing your insights and experiences. The app is basically a massive database of market research. All you do is complete missions and get paid. It's as simple as that. The types of missions you'll complete include diary studies, photo/video response surveys, usability tests and some other marketing missions like it. And it's a 100% legit way to make good money. For example, Steven from the US made $275 in two months just from a couple of missions. Definitely worth checking out. This gets a solid 5.3/10 cash rating.
YOU COULD MAKE: $4.91/DAY  $137.50/MONTH (FREE)
RATING 5.3/10
This is an app that not a lot of people are aware of. It also pays out more money than pretty much any survey app I know about. Mindswarms is an app that lets you apply for studies record quick 40 to 60 second video responses and then get paid that's it it's literally that easy and you're paid within 24 hours through PayPal. Now for the good bit. This app pays you a lot. For example, the minimum payout for one study is ten dollars and some studies even pay as much as 50 dollars. Something that's worth mentioning here though is that your videos need to be semi-professional. You can't upload a grainy, shaky video with your family members walking in and out of frame and expect to get paid. If you can create a professional setup with good lighting and a decent camera – you can expect to earn more money than most apps. And because you can earn up to 50 dollars for 5 minutes of work, I'm gonna make this app the king so far and give it a 5.6/10 cash rating. But we're still not done yet.
YOU COULD MAKE: $7.14/DAY  $200/MONTH (FREE)
RATING 5.6/10
If you have a car you don't use constantly – this is a damn good option for you to make some money. There's an app that let's you earn passive income consistently by renting out your car to gig workers and ride share drivers. A lot of people want to make money through services like Uber and Doordash. But not everyone has a good reliable car they can use. This is where your car comes in. You can earn hundreds of dollars per week just by renting out your car. According to HyreCar you can earn up to $720 per month just for renting out your car. If you weren't gonna be driving it anyway, that's a lot of free money. This user earned over $100 for renting out their car for a couple of days. A theme in this video is that we rate higher for easy money and for that reason, I'm giving this a solid 7/10 cash rating.
YOU COULD MAKE: $25/DAY  $720/MONTH
RATING 7/10
Next up is an app where you can get paid to correct software translations. Let me explain how this works. Unbabel receives texts from some of the world's top brands. When they do, that text goes through their translation software. The only problem is – not all of those texts are 100% accurate. This is where you come in, correct the translation, and get paid for doing it. For this – you need to speak more than one language. They'll give you a quick evaluation, and if you pass it, you'll get paid $8 – $18 per hour. And just so you know, this actually pays you – check out these 2 payment proofs from this YouTuber. $65 and $100. Not bad, I'm sure you'll agree. Unbabel is pretty good because you can get paid fairly regularly by the hour instead of per job, earning this an 8/10 cash rating.
YOU COULD MAKE: $75/DAY  $2100/MONTH
RATING 8/10
One of the things I enjoy is finding ways to make money by doing things I do anyway. And with an app called Roadie, you can do exactly that. If you're driving somewhere, this app will pay you to deliver things along the way. Things like cakes, packages, and bodies. Just making sure you're paying attention. Now the good thing about this app is that you can integrate it into your life and deliver things on routes you take all the time. Getting paid for coming home from work is a pretty good deal if you ask me. Also, the app is good because it gives you guaranteed payouts for your deliveries so you can decide whether it's worth it for you or not. This driver earned $103 for some home depot deliveries that were along his route anyway. On average most drivers earn around $13 per short trip, but you can earn as much as $650 for a longer trip. That's a lot of money, and for that reason, I'm giving it a solid 9/10 cash rating. 
YOU COULD MAKE: $100/DAY  $2800/MONTH
RATING 9/10
Something I want to emphasize guys is that not a single app will make you a ton of money. But some people end up paying their bills with apps like these. They do it by leveraging multiple apps simultaneously to the point where it all adds up at the end of the month. And as you've noticed, some of these apps are free money.
So download a few of these apps, give them a try, and let me know what you think. Guys – I appreciate every single one of you. Never forget that you can achieve anything you set your mind to. If you ever want to learn how to make serious money online, check out the video in the description below, where I'll tell you everything you need to know to earn your first $10,000 entirely online. I'll see you in the next video.