EVERY AI Side Hustle To Start In 2023 (Make $42,000/Month)
Blog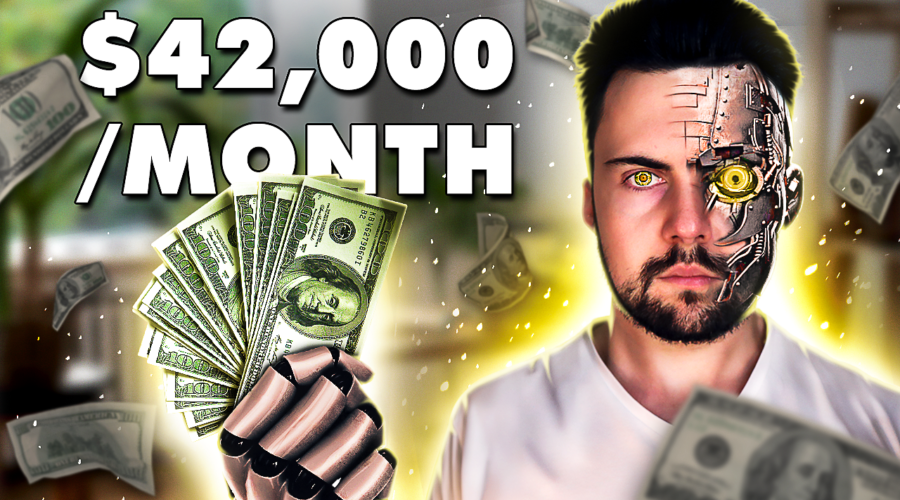 Make no mistake about it. We are currently going through a digital renaissance. Everyone is moving online, and there have literally never been this many opportunities to make serious money. A big part of this renaissance is AI. There are tons of people online leveraging AI tools to build 7 figure businesses with less time, energy, and money than ever before. If you know what to do, you could create a business of your own and start making serious money without needing crazy skills or knowledge. In this video, I'm revealing the easiest and most profitable side hustles that you can build using AI tools to make $10k per month or more. Let's get started. 
Idea #4 – Faceless YouTube Business Channel
The first side hustle is YouTube automation. More specifically, a faceless YouTube channel and, more specifically than that – a channel in the finance/business niche. I'll explain why in a little while. Now, if you guys don't know what faceless YouTube channels are, they're basically those videos that have a voiceover narrator that tells a story or explains a specific topic. Instead of a talking head – you have a slideshow of images or videos that go with the voiceover. It's pretty straightforward. You've seen them everywhere. You don't even need a camera.
It's super popular to see educational or historical videos in that style, and now, with AI voice tools like Eleven Labs, your voice isn't even needed. Now, the reason I'm suggesting that you make a faceless YouTube channel in the make money online/business/finance niche is because it has a high RPM of $20-$30, which makes it potentially the most profitable channel niche you can start. And if you're not aware – Revenue Per Mille (RPM) represents how much money you've earned per 1,000 video views. That beats other niches with an average of $3 – 4 RPM out of the water. Now if you know your way around YouTube, you'll also know how important likes are for a video doing well on the platform. If this video helped you in any way, please consider clicking that like button below because it will really help me grow my channel. I appreciate it. 
But how would you go about starting a faceless YouTube channel from scratch? Let me give you an example. Let's say I have a friend who's decided to start a faceless YouTube channel in the business niche. Obviously, it is a very smart move. After setting his channel up, he's ready to start churning out videos. To get started, he chooses a specific topic; then, he finds written articles on that topic online. He copies the text and asks Chat GPT to re-write those articles in the form of a video script. And because he's a good guy – he credits the original articles and never copies them word for word.
When that script is done, he uses a quill bot to reword the script at a high school reading level so it's more conversational. The next thing he needs is some voiceover narration. But he doesn't want to read out the whole thing word for word every time. Instead, he wants to create an AI clone of his voice. So he goes to Eleven Labs and feeds the algorithm a simple text narrated by him. Eleven Labs then uses that to create an AI voice-over that sounds just like his voice. And even if he didn't like his voice, they actually even have preset voices that anybody can use. They even sound pretty damn good. Now that he has the voice cloned, he uploads the script into the tools and BAM. Just like that, he has instant AI voiceovers that sound like him. 
Now, the next step. Editing the video. He isn't so good at this yet, but he downloads a free editing software called DaVinci Resolve, watches some YouTube tutorials, and learns all he needs to know to get started. And to find footage and images for free, he uses sites like Unsplash, Pixabay, and even Google. But my friend also realizes something important which is going to make him very successful. He knows that just because you use AI tools doesn't mean you can get away with poor-quality content. AI tools are there to remove the tedious stuff, but your content still needs to be high quality.
He's almost there, but the last step of the process needs to be taken care of. And that's producing thumbnails. To make a thumbnail, my friend gathers ideas for thumbnails using Chat GPT and then gets them made using mid-journey. This keeps it quick, easy, and simple. And if you do what my imaginary friend did, then you can create a faceless YouTube channel that brings in tons of money every month. For example, this faceless YouTube manager started a channel and, within four weeks, grew it to almost $4000 per month. Now, this kind of result isn't common, but it just goes to show what's possible. 
Idea #3 – Write Tweets For Creators And Businesses
The next side hustle is Ghostwriting tweets for Creators and Businesses on Twitter. Now, there are a ton of people out there making a lot of money writing high-performing tweets for other people. Loads of businesses in the online space know that Twitter is a solid marketing platform, but they don't have time to do it – let alone get good at it. That's where Twitter ghostwriters come in. Lately, there's been a surge in the demand for ghostwriters who help entrepreneurs and creators with their Twitter content. This used to be a small gig nobody really knew about. Now, it's a solid gig that you can start right away. If you're someone who spends hours scrolling through Twitter and can create engaging content, becoming a Twitter ghostwriter might just be your thing. 
And what is ghostwriting? It's basically just writing for another user's profile from behind the scenes. That's all it is. But using AI tools can completely take this to the next level. AI ghostwriting simply means using AI tools to help you with your writing process. There are a bunch of reasons ghostwriters are using AI for writing. It helps you make your writing process faster and more efficient. It also helps you create content that's more specific and engaging to your audience. But what tool should you use as a ghostwriter? Well – there are a ton out there, but I recommend Tweethunter.
It's an AI-powered software made specifically for Twitter that gives you tons of AI-generated suggestions for tweets and threads that are genuinely good. It does way more than that, but one of my favorite things about it is the auto-generated tweet function. It analyses your competitors and matches their tone and subject. It then gives you a bunch of pre-written, high-performing tweet suggestions. Change the wording. Post it. Watch your Twitter grow. I know it might sound like I'm affiliated with these guys, but I promise you I'm not. Now, this is especially good for ghostwriters because it makes the process of managing different Twitter accounts mega easy. You might charge a client $ 5,000 or more per month for five tweets a day and three threads a week.
Managing that for a single client on Twitter would be difficult, but with AI tools like Tweethunter, you increase the number of clients you can take on whilst helping them grow their brands. It's honestly great. But how do you get Twitter ghostwriting clients and how much can you make by doing this? Well, it goes without saying that you need to have a fairly good grasp of writing for Twitter. Yes, AI tools help, but they won't do everything for you.
There are a couple of suggestions I have for you if you're an absolute beginner. First, write a great comment below this video to practice your writing. Absolutely do not forget this step because it's the most important. The second thing you can do is start your own Twitter account and get your reps in. I'll tell you something important about this in just a moment. But assuming you know what you're doing, there are two ways you can find your first clients. 
One option is to offer a test run for free or at a discounted rate. This allows you to earn a client's trust by showcasing your skills. You can offer to write a week's worth of content so they can see if it aligns with their needs. If they like what they see, you're pretty much on your way to sealing the deal. Of course, you'll need to master the art of cold DMing and approaching potential clients tactfully – but you can do that with no problem.
Another approach is to make people come to you. Another reason I suggested building your own profile is that when you first start out – you don't have testimonials. That means your own Twitter profile becomes your best portfolio. Showcasing your skills on your own profile will attract potential clients to you rather than you having to actively seek them out.
But how much can you make as a Twitter Ghostwriter using AI tools? Well – it's complicated. Not because you won't make any money but because it's hard to define an upper limit. And it might not even take you very long to earn great money either. I found an example of Ciaran, who went from $0 to a $10k/month business in less than six months. That's not an uncommon example, either. Twitter can be an absolute goldmine. Trust me.
Idea #2 – Selling Mugs On Etsy
You know that thing you're sipping your coffee out of right now could make you a millionaire, right? Okay, maybe not that exact mug you have in your hand, but setting up a shop selling only mugs online could make you a crazy amount of money. Now, for you to really see the potential here and understand how this works, take a look at this listing here on Etsy. It's a simple mug with some basic text, and it's generating a thousand dollars a month from a single mug. And this shop has tons of mugs basically flying off the shelves.
But the good thing about this business model is those shelves aren't real. You don't hold any stock because that's where print-on-demand comes into play. This is very similar to traditional Drop Shipping, except you'll work with a supplier like Printify, who'll provide you with white-label products like t-shirts, pillows, socks, posters, and, yes … mugs that can be printed on. Printify integrates directly with Etsy's marketplace, making the whole process extremely easy. Your job is simply to pick out one of these products, upload some kind of design to it, whether that be an image text or an AI design, and list it for sale in your Etsy Shop.
Then it'll show up in your Etsy store, and when one of Etsy's visitors finds your shop and orders that item, it'll go straight to Printify. The design that you uploaded will be printed on the mug and shipped off directly to your customer without you ever having to have a physical location, a website, or even run any ads. This is one of the easiest businesses to start using AI tools. And let's discuss earning potential here.
Let's look at the shop I talked about earlier and do a little math. This shop has generated over $1.48 million in revenue since it opened its digital doors on August 08, 2018. That might seem like a long time. But when you divide 1.48 million into the roughly 1800 days this shop has been open – you're looking at $822 per day. That's $24,660 per month on average. This isn't a bad deal at all. So, assuming you're sold on the idea, I'm gonna give you a quick run-down of how you'd get started doing this in a few steps.
Firstly, you need to create a Gmail, Etsy & Printify account. Go to google.com and create an account that's specifically for your mug merchant business. Go to Etsy.com/sell and create a shop. You can even use Chat GPT to come up with a good name. Next, with the same email you just made, you can now sign up for Printify. From there, you'll also want to add your Etsy shop just by clicking connect and logging into the two accounts so that all of your products and orders will sync up with one another. This will make everything really smooth further down the line.
Now, with all of that set up out of the way, we can start designing products using my favorite AI tool, Midjourney. You probably already know about it, but Midjourney is just an image-generation AI that's been out for a while now. Basically, it generates images from a single line of text called a prompt. We're going to use mid-journey to generate entire designs for our mugs, so make sure that you have a free Discord account and then go to Midjourney's website and click on the join the beta button at the bottom of the page. This will connect you to the Midjourney server.
Sadly, you will have to pay ten dollars a month to use Midjourney and have access to the full commercial rights to sell the images, but that's a small price to pay. Now, when you're in the Midjourney server, go to the place where it says Midjourney bot. Just right-click on it and select message, and this will bring up your own private chat, so you don't have to see everybody else's images that they're generating.
So, to make our first image, go down to the chat box section at the bottom of the screen where it says message, and you'll start by typing out a /imagine. When the prompt box appears, this is where we can type literally whatever we want to get any kind of design that we can think of. And some of the images would look great on a mug. Once you've got the images, all you'd need to do is create an Etsy listing, upload your image to a mug, and you've got yourself a shop item that could potentially make you some decent money. All in all, this is a great business model that's making a lot of money for people at the moment.
Idea #1 – Selling Stickers
Now, we're going to take what we learned from the mug-selling idea and talk about another side hustle that could potentially make you rich. It's a business you probably never thought of, and most people struggle to believe it can make serious money. And that is … selling stickers. To prove to you how much money this can generate, take a look at this seller on Etsy, who's been selling since August 2020 and since then has made over 1.65 million dollars in less than three years. I've done the math on this, and this works out at over $1500 per day or $42000 per month. That's income that wouldn't just change your life but your family's life for generations. And just look at the kinds of listings on there.
For example, this is a roll of custom stickers, meaning you don't even need to generate images of your own. The customer provides the design, and you just put it on a roll and send it out. It's earning $1680 per month and has made over $57,000 in total. From the most low-effort stickers you can possibly imagine. Now in case you're wondering how you'd set this up…luckily, we've laid a lot of the groundwork in the previous suggestion by setting up an Etsy account, Gmail, and Printify, so we're good there. What we're going to do is use Midjourney to create a pretty much endless number of sticker designs that are completely copyright-free. 
Now, these are just a few examples of sticker designs that the AI created. All you need to do is type in different prompts of the kinds of stickers that you want. And if you're stuck on what kind of stickers to create, you can use Chat GPT. All you do in Chat GPT is type in "give me descriptive ideas for sticker designs," and you'll get tons of ideas you can type into Midjourney. For example, you can type in "a dog riding a bicycle sticker," and you'll get a ton of different images that are not only high quality but also pretty adorable. Definitely make sure you type in the word sticker, or you'll end up with artwork you can't use.
The cool thing about this is you can play around with all kinds of different wording for the prompts to get different outcomes. You can add certain words like "cute dog riding a bicycle sticker" or "cool cat playing video games while sitting on a beanbag," and one of the coolest things about modern technology is you'll get great images you never even thought of. Another great thing about this is the competition. There's an infinite number of different designs limited by your imagination. If someone else is selling amazing stickers, then you absolutely can come up with stickers that sell, too. 
So now you've got your stickers, it's time to tell them. There are two options here. Sell using the Etsy/Printify method earlier, which is actually the method I recommend, especially for beginners. But the second option is to print out tons of stickers and keep them in stock. They don't take up anywhere near as much space as mugs, so it isn't a big deal. You can ship them yourself quite easily too. This way, you maximize the profits you keep by cutting out one of the middlemen in the deal. That being said, you may not want the hassle of all of that, which is completely understandable. Now, considering the absolutely crazy amount of money you could make with this business model – it snatches the number one spot on this list. Stickers are the king of this list.