7 Proven Ways To Make Money Online
Blog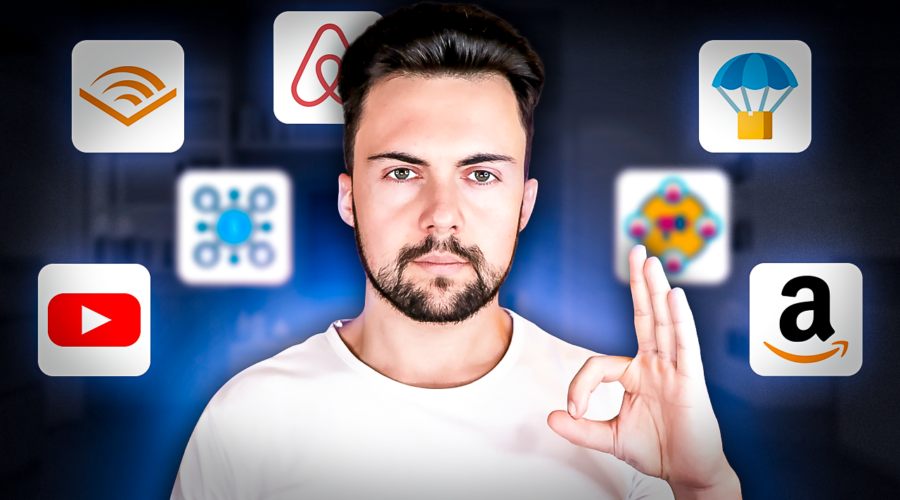 Are you looking for ways to earn extra cash online?
In this video, we'll share with you 7 proven methods to make money with just your laptop or phone. From freelance work to starting your own e-commerce business, we've got you covered.
Whether you're looking to supplement your income or make a full-time living online, these strategies will give you the tools you need to get started. Don't miss out on this opportunity to learn how to make money online and take control of your financial future.
7 Proven Ways To Make Money Online
Look, if you're tired of being a slave to your alarm clock and want to make money online with a real online business, then pay attention because, in this video, I'm about to reveal 7 proven ways to make money online, including a few you haven't heard of. Let's jump right in.
Drop Servicing
Drop Servicing is a business model that allows you to tap into the skills and expertise of others to provide valuable services to customers and make money online. Drop servicing involves offering a service, like design or marketing, to a client on behalf of another person or company.
Essentially, the person offering the service acts as a "middleman," outsourcing the work to another provider and marking up the cost to the client. The service provider is paid the price they're happy with, while the drop servicer earns the rest as profit. Drop servicing is a standard business model in the digital and online services space and can allow people without specialized skills or experience to start offering services to clients.
Imagine having a website with many high-ticket services where clients purchase without you ever having to worry about delivering the service yourself. With thousands of potential niche, service, and marketing channel combinations, the possibilities are endless with drop servicing. So how do you get started making money online with drop servicing? First, you need to find a high-ticket service on Fiverr.com. There are countless you can potentially sell.
Next, you build a website where you list that service, and finally, you use any one of dozens of marketing methods to get your first sales.
Amazon FBA
Amazon FBA is another proven way to make money online – here are five simple strategies for making bank with Amazon FBA.
First, private label your products. This involves sourcing a product from a manufacturer, slapping your branding, and selling it under your brand name on Amazon. The margins can be huge, and the sky's the limit when scaling your business.
Next, try your hand at retail arbitrage. This is the art of finding products at a discounted price and flipping them for a profit on Amazon. Online clearance sales and liquidation websites are ripe for the picking but don't sleep on in-store opportunities. Just scan barcodes and check prices on Amazon to find hidden gems.
Want to go big or go home? Wholesale is the way to go. Buy products directly from manufacturers in bulk and resell them on Amazon for a profit. This strategy requires some capital upfront, but the payoff can be huge.
Dropshipping is another excellent option, eliminating the need to handle and store products. Simply take orders on Amazon and place the same order with your supplier, who ships directly to the customer. Starting with Amazon FBA is easy. Simply set up a Seller account and list your products for sale. But the real work begins with optimizing your listings and using Amazon's advertising tools to drive sales.
One thing that not many people may know about Amazon FBA is that it's not just limited to physical products. Amazon also offers an FBA program for sellers of digital products, such as e-books, music, and videos. This program, called FBA Digital, allows sellers to store and deliver digital products. They're delivered directly to customers via the Amazon platform, giving them access to the same benefits as sellers of physical effects, such as increased visibility and improved customer service.
Dropshipping
Dropshipping is a game-changing method that allows you to run a profitable e-commerce business without needing a physical inventory. So you don't have to stock any products, handle shipments or save time on storage. Here's the deal, dropshipping is all about finding the right supplier and promoting the hell out of your store. Here's how you do it:
First, you need to find a reliable supplier with a good track record and who offers the products you want to sell. Only settle for the best. You need a supplier that will have your back and deliver high-quality products.
Now it's time to set up your store. This is where the magic happens. We recommend platforms like Shopify, BigCommerce, and WooCommerce for their flexibility, scalability, and ease of use.

Your store is your online storefront, and it has to look good, be user-friendly, and sell like crazy.
Once your store is set up, it's time to list your products and promote them like crazy. You need people to know that your store exists and that you have the best products out there. Use social media platforms, Google Adwords, Bing Ads and Facebook ads, to drive traffic to your store and ensure you're getting in front of the right audience. The orders will start coming in; this is where it gets fun.
When a customer orders, you forward the order and shipping information to your supplier, who ships the product directly to the customer. And boom, you just made a sale without handling any inventory.
Finally, and this is crucial, you need to provide excellent customer service. It's the final touch that will make or break your business. You must make sure that your customers are happy, and if they're not, you must make it right.
Dropshipping is the future business model, and it's accessible to anyone with an internet connection. It's time to stop playing small and start thinking big. Drop shipping has endless possibilities, but you must be willing to work and take action. So, what are you waiting for?
One thing that only a few people may know about dropshipping is that it can be done on different marketplaces other than your own website. Many e-commerce marketplaces, such as Amazon and eBay, and even social media platforms like Instagram, Facebook, and TikTok offer dropshipping business options. This allows you to sell products through established marketplaces and take advantage of their existing customer base and visibility.
Another thing that people need to learn about dropshipping is that it's not limited to small items. It's also possible to dropship large items such as furniture, appliances, and even vehicles. These items typically require special handling and shipping arrangements. Still, this is achievable with the help of a specialized freight forwarder or logistic provider.
Affiliate marketing
Affiliate Marketing can be a powerful strategy. It allows you to make money by promoting products or services by getting paid for each sale you generate. Here's the plan of attack:
Find a niche you're passionate about, something you eat, sleep and breathe. It could be anything from health and wellness, to personal finance, to technology. The key is to choose something you know inside out.
Once you have your niche, it's time to find products or services to promote.

You can find affiliate programs through networks such as ShareASale, Commission Junction, or Amazon Associates or reach out directly to companies and inquire about their affiliate programs.
The next step is to create a platform, a website, a blog or a YouTube channel. This is where you'll promote your affiliate products and build your audience.
Now, it's time to start creating killer content that promotes your affiliate products and provides value to your audience.

This could be in the form of blog posts, videos, product reviews, or tutorials. Alright, you have your content.
Now it's time to promote it and drive traffic to your platform. Utilize SEO, social media, email marketing, and even paid advertising to get your content in front of as many people as possible.
Finally, track your results, measure your success, and optimize your efforts. Use tools like Google Analytics to track traffic and conversions and adjust your strategy as needed.
One thing that not many people may know about affiliate marketing is that it's not just limited to promoting physical products. Affiliate marketing can also be done for digital products such as software, e-books, online courses, and memberships. These products offer the advantage of being easy to deliver and handle and allowing recurring commissions, which can benefit the affiliate.
Another thing that some people may not know about affiliate marketing is that it can be done through different platforms, not just websites. With the rise of social media, many influencers and creators use platforms like Instagram, TikTok, Facebook, and YouTube to promote affiliate products and earn commissions.
Youtube
YouTube can be a great way to make money online by creating content people want to watch and then monetizing that content through different methods. Here's how to get started:
Create a YouTube channel: To make money on YouTube, you'll need to have your own channel. You can do this by signing up for a free account on YouTube and setting up your channel.
Create content: The key to making money on YouTube is to create content that people will want to watch. This could be in videos, vlogs, tutorials, or anything else that aligns with your niche.
Optimize your channel: Once you have your channel set up and your content created, it's time to optimize it. This will make it easy for people to find your videos. This includes optimizing your channel art, video titles, descriptions, and tags for SEO.
Monetize your content: There are several ways to monetize your content on YouTube. The most popular method is Google Adsense, which allows you to place ads on your videos and earn money for each view. You can also earn money through sponsorships, affiliate marketing and merchandise sales.
Promote your channel: Once you have set up and your content created, promoting your channel to reach as many viewers as possible is essential. You can use social media, reach out to content creators, and collaborate with other YouTube channels in your niche.
Track your performance: YouTube has a built-in analytics tool that allows you to track your channel's performance and see how well your videos are doing. Use this data to optimize your content, improve your channel's visibility and keep track of your earnings.
It's important to note that making money on YouTube takes time, effort and patience. You'll need consistency in creating content, promoting your channel, and monetizing your content. Additionally, you'll need to comply with the YouTube community guidelines and policies to avoid problems with your channel.
Here's one thing that only a few people know about making money with YouTube. You can use a small audience to start making money. That's because other ways to monetize your content don't rely solely on the number of views you get. For example, YouTube's Super Chat feature allows viewers to pay to have their comments highlighted during a live stream. Channel Membership will enable viewers to pay for special perks and exclusive content. YouTube's Sponsorships program also allows creators to receive company payments for product mentions or endorsements.
Audible
Want another proven way to make money online? Consider creating an audiobook on Audible, an Amazon-owned platform that sells and produces audio content. You don't need any ideas for a topic or special knowledge to even create the audiobook yourself. With audiobooks being popular as listeners can listen to them while on the go, your audiobook has the potential to reach a larger audience and generate more passive income. Here's a quick guide on how to get started:
Research a topic that's doing well on Audible

Hire a writer on Fiverr to create the book

Hire a narrator on ACX (or a professional studio) to record the audiobook

Edit & Proofreed the audiobook for quality

Upload it to Audible through ACX

Market it effectively to maximize your passive income
Only a few people know that with Audible, you can also monetize other audio content, such as podcasts, audio series, and spoken-word content.
For example, Audible Channels, a feature that allows users to access a wide variety of audio content such as news, comedy, and original content, is a great platform to monetize your spoken-word content. Another thing only a few people know is that Audible offers a referral program that allows users to earn commissions by referring new users to the platform. As an Audible member, you can refer friends and family. Once they sign up and purchase an Audible subscription, you will earn a commission.
Airbnb
There are several ways to make money on Airbnb without owning real estate. Here are a few options:
Renting out a spare room: If you have a spare room, you can list it on Airbnb and rent it out to guests. This is a great way to make extra money if you have a spare room and are okay with sharing your space.

Hosting short-term rentals: If you have a vacation home or a property you're not using all the time, you can list it on Airbnb and rent it out to guests while you're away. This can be a great way to make money while your property is not in use.
Managing properties for others: If you don't own any properties yourself, you can still make money on Airbnb by managing properties for others. You can find homeowners looking for help managing their properties, and you can offer your services as a property manager.
Offering Experiences: You can become an Airbnb Experience host by listing and providing unique experiences like tours, cooking classes or workshops. This option doesn't require any physical space and allows you to capitalize on your skills and passions.
Become a "co-host": You can become an Airbnb co-host. This means you help an Airbnb host with guest communications, managing bookings, and coordinating cleaning services. This option doesn't require any real estate property, but you need organizational and management skills.
It's worth noting that some laws and regulations apply to short-term rentals. You'll need to check your local regulations before starting. Also, remember that if you plan to make money through hosting, you'll need to comply with Airbnb policies, such as safety requirements and taxes. One thing that not many people may know about making money with Airbnb is that the platform offers a program called "Airbnb for Work."
This program allows companies to book corporate housing and workspaces for their employees, contractors, and clients. By listing your property on the program, you can open your property to a whole new market of business travelers looking for short-term stays. Another way to make money with Airbnb that only a few people know about is by renting out your car on the platform.
Airbnb has launched a new service called "Airbnb Cars", which allows you to rent your car to guests for short-term use. This can be a great way to earn extra money if you have a vehicle that you use only occasionally. Overall, making money with Airbnb goes beyond renting out your whole property or a spare room.
There are other ways to monetize your assets and location, whether by renting out your car, hosting corporate stays, weddings, or events like photoshoots, workshops, or conferences. It's worth exploring all the options available to find the best way to monetize your assets.