22 Fiverr Gigs That Will Pay You DAILY Within 24 Hours (Easy Work At Home Jobs)
Blog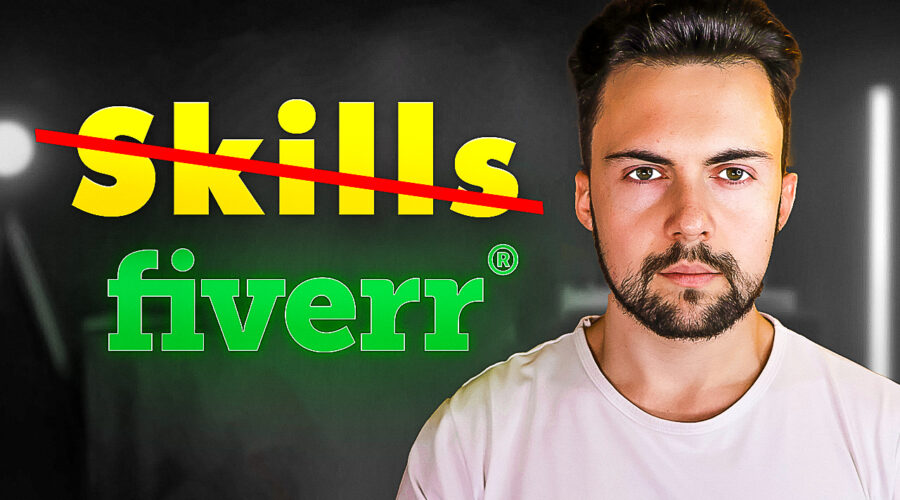 You want to make money online, but you don't know where to start. Many people think they NEED a skill like programming or copywriting to get started. And this is not true. The reality is – you can start making money online today as an absolute beginner through Fiverr.com. And in this video, I'm giving you a list of the best and most profitable gigs you can start in no time to make money on Fiverr without any specialized skills or knowledge. Let's start making some benjamins.
Business Name & Slogans
Branding is a big deal for any business. But not everyone is good at coming up with decent names or slogans when they first start. This is where you come in. If you can come up with a decent name for a brand – you're saving them a serious headache. And what if you can't come up with one yourself? Well luckily there are a few AI tools that can help you out. Try Namelix and AI Business Name Generator to give you some inspiration. Just make of list of names with the best fit and present them to the client.
Text Message Marketing
Unless you're sat in a shack in Siberia, I assume you have a phone and a decent internet connection. Well – do you realize you can use that phone to start making money right now? You might not know that tons of businesses out there use texting as a way to connect with their audience. And sometimes that audience is 100,000+ people. That's a thumb destroying amount of texts to send for one person. That's why they hire people to do it for them. You can do this as a 100% beginner. All you do is send pre-built complete marketing messages in Instagram, Facebook, SMS and other messaging services. You can also offer to write or edit their messages, too. For this it helps to be clued up on software like Klaviyo to handle the heavy lifting for you. To get started as a beginner, texting is a winner. Pretty good, right?
Social Media Management
Social media is king when it comes to marketing. However, managing it is a pain in the ass. Take it from me as a business owner. If I had to do all of this myself I'd go clinically insane. A decent social media manager can be a lifesaver. You just need to familiarise yourself with bulk post schedulers like Tailwind, Hoosuite or AgoraPulse so you can manage multiple clients at once. And for posts, you'll need to get savvy with basic online design tools like Canva & Vistacreate. But this stuff would take you a few days max to get up to speed with. Once you get the ball rolling – you can earn a really nice side income as a social media manager. 
Community Management
This is a good one. Brands and businesses will often have a community that they market to like a Facebook, WhatsApp group or Discord server. Managing these communities is a full time job in itself. Replying to comments, posting content and making sure everything is running smoothly is what's required for a decent community. You might also moderate comments, promote the community, host community events and whatever else you can think of to maximise engagement. If you've got decent communication skills and you're good with people – offering your services as a community manager can be a really solid way to make some of that sweet Fiverr money.  
Proofreading & Editing
If Shakespeare were alive – he would be raking in money on Fiverr this way. But you don't have to be able to write Hamlet. Just being a native English speaker with a good grasp of grammar means you're already fully qualified to make some decent side-hustle money as a proofreader and editor. All you need to do is some basic edit work on blog posts, articles and other written material. Bonus points if you can speak a couple of different languages because this just broadens the scope of jobs you can land. And there are a ton of these jobs out there. Start low and pretty soon, with some good reviews, your rates can increase to the point where you're making pretty good money. 
Translation
Piggybacking on the previous job for a moment, this is another gig you can get instantly if you have a good grasp of the Queen's tongue. Well I guess it's the king's tongue now but you know what I mean. You can provide translation services to businesses in English and other languages. These jobs don't require you to be a linguistic savant. You can even use a bit of cheeky Google Translate from time to time. It can be repetitive work but you won't mind doing it from a beach in Chiang Mai now will you?
Resume & Cover Letter Writing
As of this video, unemployment is steadily increasing. That sucks for the people effected. It does present an opportunity for you, though. Not everyone is good at writing. But everyone needs a form of income. And tons of people out there aren't landing jobs because of bad resume's and cover letters. Writing these is a very solid gig on Fiverr. Just study some good examples online and replicate them for your clients. How cool would it be to get a bunch of people hired while making money at the same time? Pretty rewarding, if you ask me.
User Testing
This is one of the easiest Fiverr jobs for total beginners. User Testing is a great way to make some side income. Tech companies hire people to test new software, modules, apps and websites to uncover any bugs or UX issues. All you do is poke and prod around trying to find issues and report them. These companies constantly need user testers to uncover faults before launching their project. Check out Fiverr and you'll see the demand.
Data Entry
If you have OCD, this will be a dream for you. Imagine an office jam-packed full of paperwork. That paperwork has a shed load of information that needs to be transferred into an online database. It also needs to be organized so that it's easy to access and understand. This is what a data entry person does. It's an important part of most businesses. It's one of the easiest jobs to get started on Fiverr with pretty much immediately and you'll be able to get a grasp of it nice and quickly. It helps to have solid attention to detail, fast typing skills, and an ability to organize the crap out of piles of confusing data. AI has reduced the need for manual data entry but for quite a few industries this is still very much in demand.
Virtual Assistant
A lot of business owners have so much on their plate that it's ridiculous. They're juggling so many things that they'd be screwed if they didn't have a virtual assistant to help them manage it all. VA's are remote assistants who help people with a bunch of different administrative and organisational tasks. Working as a VA, you might manage a schedule, organise emails, handle travel arrangements or do research. You might even do some basic social media management and customer support. The range of things a VA might do is really broad. The good news here is that it's flexible. You don't really need any specialised knowledge or skill at all. You just need to be attentive and be able to take some initiative from time to time. I've had a bunch of VA's in my time and it was totally worth it. 
YouTube Thumbnails
If you know a thing or two about YouTube, you'll know this. YouTube is one of the most powerful search engines out there. Businesses are using it all the time now. And thumbnails are unbelievably important for a successful YouTube channel. If you can't get someone to stop scrolling, they won't click your video. It's as simple as that, really. Also – most businesses who want to gain a presence on YouTube are well aware of this. This is why they're happy to hire people to design decent thumbnails that actually get clicks. A great place to find a decent thumbnail designer if Fiverr or Upwork. Now you might say to me "Dylan, I'm not a graphic designer mate – are you mad?" but don't worry. You don't need to be. Some of the most well-designed thumbnails actually tank when it comes to getting clicks. You just need to be able to use an online graphic design tool like Canva. Where you'll really stand out is with an understanding of human psychology. Study the thumbnails of the best YouTube channels in the business like Mr. Beast and see if you can take the principles behind them and apply them to your own thumbnails. I've hired a ton of thumbnail designers and a lot of them were absolutely terrible. But if you can make a decent thumbnail that sparks some curiosity in the audience and gets them to click – I'll hire you for sure. Don't blow up my DM's guys. I'm loyal to my thumbnail designer right now. But keep looking. If you do a good job – this can earn you some decent money.
Image Background Removal
This is a funny one. It's dead easy to remove the background from an image. You just upload the image to Canva, click "effects" and background removal and voila … you're done. So why the hell is it that this is still a really profitable gig on Fiverr? There are apparently tens of thousands of business owners who still haven't worked out that removing the background from an image is a few clicks away. It boggles the mind. But it's good for your bank account. Some gigs will require you to bulk remove the backgrounds from tons of images. It's as easy as a few clicks so you absolutely don't need much skill to get this done.
Guest Post Outreach
A great way to make money from Fiverr without a crazy amount of effort is offering guest posting outreach services. For those who aren't aware – guest posting is where an author posts an article on another website which links back to their own site. This increases SEO ranking and visibility whilst driving traffic back to their own site. The time consuming part for website owners is actually reaching out to other websites through cold outreach and getting a response. This is where you come in. Basically, all you do is offer to reach out to niche relevant websites and ask them to publish a blog post written by your client on their website. Let's say you charge the client $50 per guest post and pay the other blog $20 – which means you pocket $30 from each successful guest post landed. Once you've done this for a little while, you'll have a handy list of websites for a bunch of different niches that know and trust you. These websites will realise you're legit so they'll respond to your emails which means you'll land way more guest posts for your clients. Your income increases nicely over time. And we like that, don't we? And the great thing about this is that you only need to learn how to write convincing emails. You don't even need to write any articles yourself. Just be a really solid middle man and you'll get paid decent cheddar. What's not to like?
Podcast Writing Gigs on Fiverr
Have you ever listened to a Joe Rogan episode and wondered where the hell he gets his ideas from? Outside of talking about DMT and elk meat – there's actually a surprising amount of preparation that goes on behind the scenes. I know it seems like an unscripted, weed smoking hang out session. And yeah, a lot of the time it is. But a decent podcast host doesn't just go in blind and hope for the best. They need a structure of what to cover as well as some facts and research to sound like they actually know what they're talking about. Joe doesn't do all this research on his own. Okay he's a nutcase so maybe he does. But most podcast hosts absolutely don't. Some are even scripted word for word from start to finish. You could be the person who writes a structure or even a full script for podcasts. There are gigs all over the place for podcast writers. And it helps if you like listening to podcasts in your spare time. A quick tip for you. As you listen to podcasts, ask yourself how you would structure it differently and what could be improved. Podcasts hosts would value useful feedback and it might even set you apart. You could also try writing some podcasts and record them yourself to build your skills quickly.
E-Book Marketing
Here's another pretty good one. Let's say you've written an ebook on Amazon. Now you need to get it out there and promote it. But you don't have much time to do it. And what's worse – you don't have an audience to promote it to. This is the reality for a lot of people who write ebooks. They create it and it flops because of a bad promotion strategy. For this Fiverr gig, all you would do is offer your promotion services to authors. You'd promote a book by posting in social media groups, commenting on blog sites, engaging with influencers on social media and a bunch of other ways. You can get creative with this and save an author a bucket load of time – which makes this a solid gig.
Freelance web research
Here's another banger. Research is super important, but it's also time consuming. You can help a business take a lot off of their plate by offering to do the research for them. You may need a bit of patience but if you've made it this far into the video, you've clearly got that so you should be sweet. A few skills you'll need for this are: great attention to detail, research skills, ability to summarise information in reports and some bloody persistence. An example of a common research task is tracking down email addresses, images or brand mentions online. You also might do a bunch of competitor research for a brand and see how they stack up. If you've got a knack for gathering useful data and organising it in a way that's helpful for a business – this one's for you.
Ebook cover design
Let me tell you something you may not be aware of. Right now – there is a huge demand for digital ebook cover designs that don't suck. The digital rennaisance we're currently going through means so many people are starting side hustle solopreneur businesses. Many of these have paid ebooks as part of their brand. Many also release an ebook for free as a lead magnet to get some email addresses. If you're angle to get to grips with Canva (they should give us a commission by the way) then you could absolutely make it as an ebook cover designer. You need some basic design skills, be able to analyse competitors and be savvy when it comes to visual trends in publishing. For this gig, you'll likely spend most of your time making custom covers or templates, doing technical troubleshooting or critiquing draft covers that other people have made. Quick to start and easy to get good at. I say go for it.
Teach your hobbies
If you're still not sure what your ideal Fiverr freelance gig is – this might surprise you. Have you taught yourself spanish or french? Did your parents make you play piano as a kid? Can you play the guitar? Maybe you're damn good at chess and could quite easily teach it to someone else. That's right. Turning your hobbies into a teaching gig is something you could absolutely do. I know we're cheating a bit with this one since it definitely relies on specific knowledge or skills. But the reason I'm mentioning it is because there may be a skill you have right now that you aren't considering. Something you could teach someone else and in return – they would totally pay you for it. Have a brainstorm and see what you can come up with. Don't be afraid to think outside the box on this one. 
Beta-Reading
Do you enjoy reading? Well … what if you could get paid for it? This could be a fun way to make some extra money if you're a bit of a bookworm. A beta reader reads books before they get published. They then give some feedback to the publisher about what's good or bad. You might give feedback on things like plot holes, weird or confusing scenes or bad character development. You might also ask some questions about parts of the story that aren't clear and make some suggestions. And don't worry if writing isn't your thing – Beta readers aren't expected to fix grammar or make edits. You also won't be asked to write a full review. You just read the book and give honest feedback. Authors often crave the cold hard truth – even if it hurts. And if you're still not sold on this one, you can call it alpha-reading in your head if it helps. 
Product Reviews
Let me ask you a question. Have you ever gone to order something on Amazon and looked at the review section to find a ridiculously in-depth review with photos included? You might wonder – why the hell would a person spend this much time and energy reviewing a goddamn plastic water bottle? Well – this isn't an accident. That reviewer was likely paid to do it. That's how important reviews are to an online product. If you sell stuff online, you know that reviews are like gold dust. The only problem is getting the damn things. Especially when releasing a product to a brand new market. Without reviews, things don't get sold. The market is just way too damn competitive now. This is why sellers will hire people to review their product for them. You can create a gig pretty much instantly and get started really quickly with this one. Whereas beta-reading can take a bit of time since you're reading the book first – product reviews don't have this issue. You get the product sent to you. You use it and review it. You then leave that review on Amazon or Shopify for example. You might also post that review on social media. Simple. Oh and another way to make a bit of extra money with this is through add-ons like photos, unboxing videos and more engaged social media promotion.
Gaming coach or gaming services
No – I've not lost my mind. This is an actual service that people actually pay for. There are people out there so crazy about certain games that they are more than willing to pay someone to coach them on being better at it. There will even be some YouTubers out there who might hire you to play with them. If a big YouTuber picks you and you play a damn good game – then congratulations. You've just won the game of Fiverr. The hardcore fans of that YouTuber might also hire you afterwards. This honestly has to be one of the easy Fiverr gigs you can do. I mean, who actually struggles to play games? The internet is weird sometimes.
Ebook & Kindle Formatting
We've talked about Ebooks a lot in the past few minutes – so let's do it again. If you're as big of a reader as I am, you'll know how amazingly satisfying it is to come across a kindle book that's perfectly formatted. There's no weird text jammed into odd places. All the chapters and page breaks are in the right place. The text looks and reads amazingly well. No? Okay – maybe I'm just showing my age. Well anyway, formatting is still a crucial part of the ebook creation process. After authors and publishers have created the book on google docs or whatever, they need to convert it into a properly formatted ebook that looks great on Kindle. If you just whack it on there as a PDF it sucks and ruins the readers experience. This is why an author will gladly pay someone to format their ebook for them. It really isn't that difficult to learn how to format an ebook either. A few articles and you'll know all you need to know. After that, it's just a case of practicing until you get the hang of it. So take advantage of the big ebook boom going on right now and start putting your formatting services out there on Fiverr.
But if Fiverr doesn't float your boat and you want to take things to that next level and make the big cheddar online – let me show you how I do it. Just check out the free training.